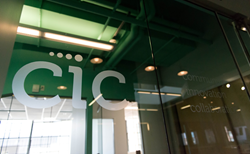 CIC has proven it attracts the perfect mix of entrepreneurs, advisors, engagement, thought leadership, and a myriad of other unknown special ingredients to help entrepreneurs succeed.
St. Louis, Missouri (PRWEB) September 29, 2014
CIC@4240 is open for business. Massachusetts' renowned Cambridge Innovation Center today opens the doors to its new facility, the first of its kind outside of its home state. Housed inside Wexford Science + Technology's @4240, the CIC's new space is now a part of the world-class Cortex Innovation Community, creating and managing next-generation flexible work environments for start-ups and small and mid-sized companies. Starting with about 20 founding clients, CIC expects to eventually house as many as 75 companies in its @4240 location, from entrepreneurs and growth businesses to strategic service firms and investor groups. @4240 is a LEED Platinum certified lab and research facility.
"We have a great mix of clients to start, and the momentum is really starting to build," said Dougan Sherwood, CIC@4240's co-founder and managing director. "The community in and around CIC has been a huge part of our success in Cambridge – I'm excited to help build a similar success story here in St. Louis."
CIC@4240's founding clients include innovation divisions of global companies, such as Nestle Purina Petcare's Emerging Growth Group, start-ups like Frienedy, a safe alternative for kids' social networking, and Synek Draft System, a company bringing fresh-from-the-tap beer to your kitchen counter.
"Nestle Purina Petcare is excited to be part of the CIC," said Blair Morgan, Vice President of the Emerging Growth Group. "We're looking forward to engaging with an expanding Cortex Innovation Community here in St. Louis."
CIC@4240 occupies 32,000 square feet of the second floor of the @4240 building, boasting more than 70 offices from one-person "Unos" to large team offices that could house up to 20 people. More than half of the footprint of the CIC@4240 is shared space – including 13 conference rooms, a large event space, eight phone booths, a nursing mother's room, soft seating areas, and a large kitchen and café.
"CIC will be game changing for companies trying to take their business to the next level," said Steve Young, founder of Synek. "It will have all the financial and expert tools in one place. It will put St. Louis on the map as a serious player in the startup scene."
"With billions invested in CIC-hosted companies, CIC has proven it attracts the perfect mix of entrepreneurs, advisors, engagement, thought leadership, and a myriad of other unknown special ingredients to help entrepreneurs succeed," said Carter Williams, CEO and Managing Director of iSelect Fund. "We are very excited that they have brought their business model to St. Louis. Of course, we want to be right in the heart of that ecosystem of proven success."
Other founding clients include Oral Genomics, Stone Carlie, Twain Financial Partners, Azimuth Energy, The Mission Center, IdeaLab, Champio, Elasticity, Polsinelli, OG Systems, CTY.io, Grove Properties, Workgroup Connections, PharmaRen, Lemnatec, Treloar Enterprises, Corrigan-Jones, Cortex and Venture Café Foundation.
These companies will also benefit from the networking opportunities offered by Venture Café, the CIC's non-profit partner that enhances and accelerates the innovation process through programs that gather entrepreneurs and build relationships. Venture Café will launch its weekly Thursday evening gatherings on Oct. 2 from 3pm to 8pm. Earlier this year, Cambridge Innovation Center also assumed management of the Center for Emerging Technologies at Cortex, now known as CIC@CET.
"CIC really expresses our core mission in building @4240 and becoming a part of the Cortex Innovation Community," said Dan Cramer, senior vice president of development for Wexford Science + Technology, a BioMed Realty company. "CIC will bring dozens of entrepreneurs with fresh new ideas into the community, fostering innovation. This is an exciting day that we've been looking forward to since the day we broke ground on @4240!"
CIC is the fourth tenant to move in. Anchor tenant Washington University opened several offices in 2013, and Boeing Ventures Group, Husch Blackwell, and Manifest Digital have opened offices over the past few weeks. AB Mauri will move its North American headquarters into the building later this year. CIC@4240 is leading a building-wide open house celebration on October 24.
About Cambridge Innovation Center
Founded in 1999, the internationally recognized Cambridge Innovation Center (CIC) is now the largest innovation center in the world. With over 500 companies in its space, CIC offers full-service, next-generation office facilities for entrepreneurs, businesses, talented individuals, and academic labs and institutes. CIC companies include incubators, accelerators, and nearly one hundred MIT and Harvard spinouts. CIC has also been the destination of choice for major technology firms, including Google, looking to set up their East Coast presence.
In addition to providing a dynamic work environment, CIC serves as a community architect to support and amplify the work being done in local innovation ecosystems. Last year, CIC hosted over 500 events, seminars, and educational offerings in its facilities in Cambridge. Called "the most important building in Greater Boston, and for that matter the entire state" by the Boston Globe, CIC is perceived as an integral part of the innovation ecosystem in Massachusetts.
About Cortex
Five premier educational, research and healthcare institutions joined forces in 2002 to create the Cortex Innovation Community. Cortex is transforming an aging, 200-acre, midtown industrial district into a vibrant, 24/7, mixed-use neighborhood that will serve as the epicenter of innovation and entrepreneurship in the St. Louis region. To date, Cortex has completed or committed development of $500 million and 1.6 million square feet, approximately 25% of its targeted buildout.
About Wexford Science & Technology
Wexford Science & Technology, LLC, a subsidiary of BioMed Realty, is a real estate development company focused exclusively on partnering with universities and major research institutions to create Knowledge Communities; vibrant, mixed-use communities built on a foundation of discovery, innovation, and entrepreneurial activity. Wexford has developed ten other Knowledge Communities across the U.S: the Bio-Research & Development Growth (BRDG) Park at the Danforth Plant Science Center in St. Louis; Hershey Center for Applied Research in Hershey, PA; Innovation Research Park @ODU in Norfolk, VA; Life Science Research Center in New Haven, CT; The Chesterfield in Durham, NC; University City Science Center in Philadelphia; University of Maryland BioPark in Baltimore; University of Miami Life Science & Technology Park in Miami; University Technology Park at IIT in Chicago; and Wake Forest Biotech Place at the Wake Forest Innovative Quarter in Winston-Salem, NC.