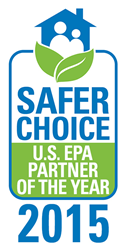 St. Louis, MO (PRWEB) June 22, 2015
St. Louis, June 11th, 2015/Wexford Labs/- Wexford announced today that they have been awarded the EPA 2015 Safer Choice Partner of the Year Award and have been recognized as a Safer Choice Formulator-Manufacturer. Safer Choice recognizes Wexford Labs for its innovations in disinfectants and healthcare products. Wexford Labs formulated the first hospital-grade, Safer Choice-labeled products as part of EPA's Design for the Environment Antimicrobial Pesticide Pilot Project.
"Receiving the Safer Choice 2015 Partner of the Year recognition from the EPA is an honor and provides credibility to our mission of innovative infection control solutions that minimally impact human health and the environment. As a small family-owned business, this award is an affirmation as to the importance of small business to innovation in sustainability" said Owner and CEO Mary Anne Flynn-Auer. "Wexford Labs was established over 40 years ago on the premise that disinfectants could be effective yet safer for the people that handle or come in contact with the products. A by-product of this goal is that the products are better for the environment and for equipment surfaces."
CleanCide® RTU liquid and Wexford Disinfectant Wipes carry the DfE (Design for the Environment) logo as part of the EPA's Design for the Environment Antimicrobial Pesticide Pilot Project and are a physical embodiment of our company's founding principles."
These products are used to clean and disinfect hard, nonporous surfaces. They are excellent for use in healthcare environments, education, childcare, hospitality, agriculture, and anywhere there is a concern about contagions.
"EPA congratulates Wexford Labs for winning the 2015 Safer Choice Partner of the Year award," said Jim Jones, Assistant Administrator of EPA's Office of Chemical Safety and Pollution Prevention. "This award recognizes leadership and accomplishment in developing and promoting safer chemicals and products. Wexford Labs has shown that by making innovation in chemical sustainability an important part of their organization, they can prosper while making healthier products and services available for home, work, and recreation."
About Wexford Labs
Founded in 1974, Wexford Labs is dedicated to promoting the safety and education of professionals in the cleaning industry by the manufacturing and distributing of safer yet effective products. Through the years, Wexford Labs has formulated a variety of unique and innovative disinfectants.
About the Safer Choice Label:
For the past 15 years EPA's label for safer chemical products has been known as the Design for the Environment, or the "DfE," label. We spent more than a year collecting ideas and discussing new label options with stakeholders, such as product manufacturers and environmental and health advocates. Then we took our ideas to consumers and asked what worked best for them. The result is the new Safer Choice label. Products with the Safer Choice label help consumers and commercial buyers identify and select products with safer chemical ingredients, without sacrificing quality or performance. More than 2,000 products currently qualify to carry the Safer Choice label.
The DfE label will still be used on antimicrobial products, like disinfectants and sanitizers, and biopesticide products that qualify for our pilot program with EPA's Office of Pesticide Programs. The DfE label helps consumers find products that are more toward the green end of the pesticide spectrum. Please know that whether it's the Safer Choice label or the DfE label, what's behind the label - the program's stringent requirements and high standards - is the same. More information about the Safer Choice label can be found at http://www2.epa.gov/saferchoice. More about the DfE Antimicrobial Pesticide Pilot Project can be found at http://www.epa.gov/pesticides/regulating/labels/design-dfe-pilot.html.