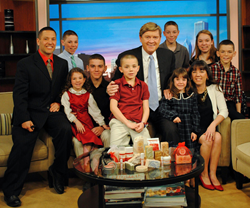 Goat Milk Stuff's main product category is bar soap, available in many scents as well as an unscented version for people sensitive to fragrances.
Chicago, Illinois (PRWEB) February 27, 2014
Chicago's top rated station, CBS affiliate WGN-TV, showcased PJ and Jim Jonas and their 8 children, ages 6 to 17, on its popular Midday News and reported how the family works together on their Indiana farm making healthy natural goat milk soaps to build the success of Goat Milk Stuff, online at http://www.GoatMilkStuff.com.
Emmy Award winning Midday News co-Anchor Steve Sanders, interviewed PJ Jonas on WGN News about how as a busy mom she founded Goat Milk Stuff with the help of husband Jim and the children.
Based in Scottsburg, Indiana, Goat Milk Stuff markets a variety of natural chemical-free soaps, lotions, bath products and more that are wonderful for skin care and used by consumers across the USA and around the world.
PJ told WGN Midday News, "I began making goat milk soap for our children to avoid the chemicals in so many soaps and shampoos, and when I put the soap it in the shower, my husband's fingers stopped cracking and splitting." From that humble beginning, PJ realized the skin care potential of the soaps and Goat Milk Stuff was born.
Jim Jonas added that Goat Milk Stuff's business "kept growing and growing from the beginning." Sales have increased dramatically in each of the past several years, due to consumer demand. Recently, the Jonas family moved from its 3-acre farm to a 36-acre farm, with new soap making building, house and barn, with plenty of space for the children to play and the goats to graze.
PJ told Sanders the company's main product category is Goat Milk Stuff bar soap, available in many scents as well as an unscented version for people sensitive to fragrances. "Goat Milk Stuff soaps are especially good for people with dry skin, eczema or psoriasis," she added.
Sanders interviewed each of the homeschooled children, who are involved in the family business in age-appropriate ways from milking goats to helping in the office. The Jonas children feel part of the family success as they learn principles of business and character-building lessons about attaining the American Dream.
The famed news anchor asked the Jonas children to tell viewers the family's business slogan and they responded in unison: "Work Hard, Get Dirty, Use Good Soap."
Sanders told WGN TV news viewers that the family's products are found online at GoatMilkStuff.com and that PJ's podcast is at BusyMomPodcast.com, noting she has been acclaimed for her success. Recently, PJ won the Leading Mom in Business annual competition of StartupNation and Stables, based on the success of Goat Milk Stuff.
The Jonas business also maintains an active social media presence with a growing following on Facebook at Facebook.com/GoatMilkStuff, YouTube at YouTube.com/GoatMilkStuff and on Twitter at Twitter.com/GoatMilkStuff.
Online at GoatMilkStuff.com, the Scottsburg, Indiana company makes and markets all-natural Goat Milk Stuff™ products including goat milk soaps, lip balms, lotions, bath bombs, laundry soap, soy candles and more. For media contact Brian Dobson at DobsonPR.com or BD (at) DobsonPR.com.