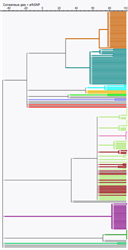 The results point to the potential use of the RESOLUTION System to provide critical strain information in a culture independent diagnostics environment, and to considerably reduce the time involved in outbreak investigation and response.
Woburn, MA and Sint-Martens-Latem, Belgium (PRWEB) November 20, 2013
PathoGenetix, Inc., a developer of an automated system for rapid bacterial identification, and Applied Maths, NV, a leader in bioinformatics and analytical solutions for public health and research laboratories, presented a novel study at InFORM 2013 comparing comparing three different genomic methods for typing bacterial pathogens: the new technologies, whole genome sequencing (WGS) and Genome Sequence Scanning™ (GSS™), and the traditional pulsed field gel electrophoresis (PFGE). PFGE is the current standard for pathogen identification in foodborne illness outbreak investigation and response.
The BioNumerics® software suite (Applied Maths) was used to analyze a data set of 190 pathogenic E. coli strains from the Centers for Disease Control and Prevention (CDC). Clustering of related strains was performed using patterns generated by PFGE and whole genome sequence data included in the CDC data set, and GSS fingerprints, PathoGenetix's proprietary technology used in the RESOLUTION™ Microbial Genotyping System. For the set of E. coli isolates tested, the analysis shows a remarkably high congruence between the GSS groupings and WGS groupings, while maintaining a good concordance with the PFGE groupings. With respect to WGS, the GSS groupings also turn out to be more discriminatory than the PFGE groupings.
The results point to the potential use of the RESOLUTION System to provide critical strain information in a culture independent diagnostics environment, and to considerably reduce the time involved in outbreak investigation and response. The RESOLUTION System can work from a mixed sample and does not require the preparation of a cultured isolate, as is the case with whole genome sequencing and PFGE, and provides strain type and serotype results in less than five hours.
The collaborative research is detailed in a poster presented yesterday at the InFORM 2013 (Integrated Foodborne Outbreak Response and Management) meeting being held this week in San Antonio, Texas. InFORM meetings are designed to coordinate and enhance the work of microbiologists, epidemiologists and environmental health specialists focused on foodborne disease surveillance, outbreak detection and response. The meeting is sponsored by the CDC, the Association of Public Health Laboratories (APHL), the U.S. Department of Agriculture Food Safety and Inspection Service (FSIS), and the Food and Drug Administration (FDA), and integrates the separate PulseNet and OutbreakNet annual meetings held in previous years.
Applied Maths and PathoGenetix signed a collaborative agreement in June to integrate the RESOLUTION Microbial Genotyping System with the BioNumerics software suite. The two companies have a first working version of the new functionality ready, which integrates PathoGenetix's rapid pathogen strain typing with BioNumerics' advanced data management and networking tools. The plug-in will enable sharing and comparison of outbreak strain data among public health or food safety testing labs, and the comparison of serotype and strain type information generated by the RESOLUTION System with data sets generated by other identification methods such as PFGE or whole genome sequencing.
PathoGenetix's RESOLUTION System is an automated instrument that utilizes Genome Sequence Scanning, the company's breakthrough genotyping technology that isolates and analyzes microbial DNA directly from complex mixtures in five hours. The fully automated System combines rapid throughput scanning and proprietary software to generate genomic fingerprints based on the underlying sequence, compare them to an onboard database, and provide molecular serotype and strain type information for all target bacteria present in the sample at detectable levels.
Applied Maths' BioNumerics is a turnkey software suite for integrative biological data management and comparative analysis that includes fingerprint and sequence analysis, data mining, clustering, identification and statistical applications. BioNumerics software is currently in use in thousands of public and private research sites and laboratories worldwide, and is the cornerstone for numerous national and international research projects and epidemiological surveillance networks.
###
About PathoGenetix, Inc.
PathoGenetix™, Inc. is a commercial-stage developer of an automated system for rapid bacterial identification from complex samples. PathoGenetix is a venture-backed company that has received more than $50 million in technology development funding from the Department of Homeland Security. The core Genome Sequence Scanning™ (GSS™) technology analyzes DNA directly from an enriched biological sample—without the need for a cultured isolate—and provides results in just five hours, days faster than current methods. GSS has broad applicability in food safety, industrial microbiology, and clinical diagnostics and research. The GSS technology will be available in the RESOLUTION™ Microbial Genotyping System in 2014 for use in food safety testing and foodborne illness outbreak investigations. Learn more at http://www.pathogenetix.com.
About Applied Maths, NV
Applied Maths, a bioinformatics company, was founded in 1992. Since then, it has gained global recognition with its software for the analysis of electrophoresis patterns. The company has acquired a unique market position with BioNumerics®, a software suite for integrated databasing and analysis of all kinds of biological data, including whole genome sequences. BioNumerics has developed into a multi-faceted platform combining databasing and analysis technologies, with numerous applications in research and surveillance, including bacterial and viral epidemiology and profiling, crop improvement, human genetics and biotechnology.
Applied Maths combines extensive expertise in bioinformatics and unique mathematical know-how to develop the most powerful and fastest algorithms for pattern recognition and matching, data mining, screening and clustering. In so doing, the company fulfills a critical requirement in the bioinformatics industry for obtaining and analyzing greater and more complex data sets. The impact of Applied Maths' software is evidenced by referrals in thousands of scientific publications and an impressive portfolio of customers in over 100 countries. The BioNumerics software platform is used in many prestigious international projects and mission-critical networks. Applied Maths has its headquarters in Sint-Martens-Latem (Belgium) and a sales office in Austin, TX (USA). For further information, please visit the company's website http://www.applied-maths.com.