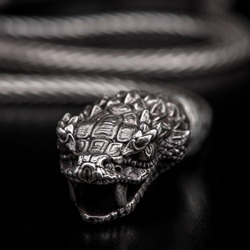 The designs and exotic materials are reminiscent of HBO's hit series 'Game of Thrones.'
Los Angeles, CA (PRWEB) July 17, 2014
Men's luxury brand William Henry expands its range of offerings presenting a striking new collection of jewelry tailored to meet men's growing interest in fashionable personality statements.
Broadly inspired by HBO's hit TV series 'Game of Thrones,' the new jewelry collection features intricate and superbly sculpted sterling silver elements, embellished with rare hand-forged metals, and the precious and exotic materials that are the hallmark of William Henry's world renowned creations.
Two years in the making, the new collection showcases the remarkable evolution of William Henry's work with metal-forging techniques derived from the ancient art of sword making, and the use of rare and exotic materials. New, ground-breaking casting techniques also allowed Matt Conable (founder and chief designer of WH) to interweave the collection with intricate and extremely detailed symbolic motifs in sterling silver, which create a unmistakably modern collection clearly rooted in our collective history.
"We have been using hand-forged metals like damascus steel and mokume gane since our early days at William Henry," says Matt Conable. "It has always been a challenge to explain the craftsmanship, techniques, and remarkable value inherent in these metal tapestries. Today all I need to do is mention the fabled Valyrian steel swords you see in 'Game of Thrones' and I immediately have everybody's attention. Seems like pop culture is looking back in time, and finally catching up with what we are doing."
The moods and themes evoked by the new jewelry collection are indeed reminiscent of HBO's hit TV series. Not just the metal forging techniques, but the use of exotic materials like fossil Woolly Mammoth and dinosaur bone. "These are creatures that walked the earth at the dawn of time or civilization," adds Conable. "They are an essential legacy of a different age, and they evoke a mythical, legendary world where men are governed by simple values, like courage, honor, loyalty, and the clear contrast between good and evil.
William Henry's jewelry collection strives to capture these timeless atmospheres with bold sterling silver bracelets, masculine leather cuffs, and sculptural pendants. Clasps, beads and inlays are crafted from mokume gane and damascus (forged metal tapestries using techniques originally developed for samurai swords), and ranging from 10,000 to 300 million years old. Some pieces also feature remarkable braided Kevlar (best known for stopping bullets) that is unexpectedly soft and supple for such a rugged material.
The new line is a testament to William Henry's quest for original and inspired designs that can express the distinctive and multi-faceted individuality of their owners.
For over 15 years, William Henry has been redefining the world of luxury accessories for men by turning functional instruments such as pocketknives, money clips, and writing instruments into inimitable expressions of personal style. The new jewelry collection represents a new and important cornerstone in the brand's evolution in the world of luxury for men.
The initial assortment of bracelets, pendants and necklaces is comprised of over 50 pieces, with retail prices starting at $150 and reaching over $10,000 for the most exclusive creations.
William Henry creations are available at williamhenry.com and over 450 selected retailers in the Unites States and abroad.
About William Henry
William Henry is an American luxury brand devoted to the vision of designing and creating superlative functional jewelry. Designer and entrepreneur Matt Conable founded the company in 1997 and is now the sole owner. Conable first established the brand creating exclusive and award-winning pocketknives, effectively transforming the archetype of all tools into a superb piece of functional jewelry for men. Today's collections also include cufflinks, writing instruments, money clips, key chains, and golf tools.
The seamless integration of classic natural materials, precious metals & gemstones, and state-of-the-art alloys is a hallmark of William Henry's work. Most of the brand's creations are limited editions, and the use of exotic materials make every piece truly unique. William Henry's collections are available on its website and through a select network of authorized retailers in the US and abroad. For more info on WH visit williamhenry.com.