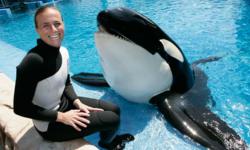 Chicago, IL (PRWEB) July 08, 2013
Whale Done has become a motivational uplift for the companies consulted by Carlton's Training Jim Case. The motivational aspect of bringing employees into training and inspiring change is of huge importance to organizations this year. This week Carlton's Training Jim Case has implemented the new Whale Done complete package to their agenda for management training.
Ken Blanchard has been a guru for the business world for decades. His creation and use of situational leadership has had a powerful effect on the workforce and managers across the world. Leaders will all have their various styles, but even those with contrary leadership styles have found their level of achievement raised from the use of Ken Blanchard leadership programs. Blanchard's ability to reach so many different managers from cultures the world over is astonishing.
The Whale Done video captures all the fun and excitement of killer whales flying through the air and splashing happy crowds who come from all over to witness these amazing and thrilling feats. But what lies beneath it that coaches, managers and leaders have found enticing? How do they get these whales to do their bidding? How do they consistently get these larger animals to do precisely what they want and consistently and without the ability to speak the same language?
This of course is the rub for many managers. They know what needs to be done and have constructed a sure fire way to win. But how can they get their employees to consistently perform the tasks of their job repeatedly and with gladness and a positive attitude? The Whale Done program by Ken Blanchard tackles this subject with a deft hand. This program demonstrates the manner in which to communicate and reward employees so they actually want to perform these tasks.
Carlton's Training Jim Case uses the Whale Done program in all of their training for their clients in the areas of management training and motivational training. The consensus is this program provides motivation desperately needed by an overworked staff. Other programs handled by this company are Dewitt Jones training videos, diversity training videos and sexual harassment training videos. To see the Whale Done program free preview or learn more about this organization click on their site Carlton's Training Jim Case.