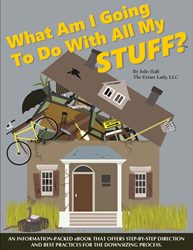 This guide has broad consumer appeal; everyone has stuff they don't use, whether one closet or an entire storage unit.
Charlotte, North Carolina (PRWEB) October 28, 2015
Garages, storage units, and attics are full of stuff because most people don't know how to let go and they have no idea where to begin to simplify their living space. For all these people, Julie Hall gives the brain of an appraiser and liquidator rolled into one. Packed into a 66-page eBook, 'What am I Going to Do with All My STUFF?' is her advice on how to thin out the house one room at a time and determine what to keep, sell, donate, and discard. She discusses what has value, options for selling stuff, and what to do with collections and family heirlooms.
Understanding value is critical knowledge for the process of simplifying possessions. This book defines the factors which affect value, like the economy, market trends, changing styles, and generational differences. Characteristics of value, such as condition, provenance, age, material, artist, and style, are discussed to help the consumer realize what has value and why some pieces don't hold their expected value anymore.
Author Julie Hall, The Estate Lady® is a nationally recognized personal property advisor, appraiser and liquidator with decades of experience. This experience provides for the consumer a wealth of very valuable assistance which allows them to simplify their spaces and live free of clutter. Many people want to downsize, or they need to downsize because of financial reasons or an empty nest. After decades of working with estates and downsizers, hoarders and heirlooms, Julie expertly shares her tips and best practices through this guide to empower consumers.
Ms. Hall expertly navigates the emotional aspects of how to make peace with letting go. She addresses potential obstacles like time deadlines and staying on task. So many options are available for selling stuff: professional estate sale, auction, consignment, yard sale. Her book explains the pros and cons of each method and lists important questions to ask when interviewing professional estate liquidators.
This guide has broad consumer appeal; everyone has stuff they don't use, whether one closet or an entire storage unit. At some point, everyone needs to move, downsize, and relieve themselves of belongings they don't need anymore. Julie Hall offers practical and professional solutions to move people from clutter to calm.
The eBook is now available at eBookIt.com and other online book suppliers like Amazon.com and Barnes and Noble. The printed book will be available within weeks through these online book suppliers.
CONTACT:
Julie Hall
Julie(at)TheEstateLady.com
704-543-1051
ABOUT THE AUTHOR:
Julie Hall, The Estate Lady®, is a nationally known personal property expert who has guided thousands of individuals across the country in the daunting and often painful process of managing what their deceased loved ones leave behind. Her best-selling book, The Boomer Burden: Dealing with Your Parent's Lifetime Accumulation of Stuff, continues to gain national attention for its sound advice and insights. Her expertise has been sought out by families around the world and has been cited in The Wall Street Journal, AARP, Kiplinger's, Consumer's Digest, Smart Money, MSN Money, LA Times, Woman Entrepreneur, and many online resources. Julie is also the Director of American Society of Estate Liquidators®.
About eBookIt.com:
Since 2010, eBookIt.com (based in Sudbury, Massachusetts) has helped thousands of authors and publishers get their books converted to ebook format, and distributed to all the major ebook retailers, including Amazon.com, Barnesandnoble.com, Apple iBookstore, Kobo, Sony Readerstore, Ingram Digital, and Google eBookstore.