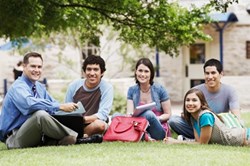 Students should start exploring and choosing college majors before choosing a college.
Portland, OR (PRWEB) October 31, 2013
College bound high school students and adults going back to college are better prepared if they explore and narrow college major choices before choosing a college. Career guidance leader Career Key, http://www.careerkey.org, shows how this can lead to greater success in college.
In Career Key website article "What is a College Major," Dr. Lawrence K. Jones, a nationally recognized school counselor educator, gives students three reasons to choose a major before choosing a college.
First, students can narrow college choices based on whether it offers the major or majors that interest them. This avoids costly transfers and delayed graduation due to changing majors. Students can also shop schools for less expensive places that offer the same major.
Second, students can control the time when to begin the major. Some colleges require students to choose a major upon enrollment, others not until the junior or third year. Valuable time and money is saved by making an early, more definitive choice.
Third, students can decide the extent to which they can take courses outside their major. Often students are exposed to a much wider variety of subjects in college, and exploring them is one of the benefits of a college education.
The Career Key website uses science and the best practices of career counseling to help students start this process of exploring and choosing majors. Self-help articles answer important questions like,
What is a major?
What are liberal arts majors?
How to choose a major?
How to make a good decision?
The Career Key also offers a popular eBook, "Match Up! Your Personality to College Majors" that helps students narrow their college major choices. Based on Holland's Theory of Career Choice, the book is based on extensive, independent research linking a close Holland personality-major match to success in college.
About the Career Key
Since 1997, Career Key has been the #1 Internet source for helping people choose careers and college majors. Advertising and registration-free, it offers valid career tests and career and education advice articles based on the best practices and science in the field. Career Key's author is nationally recognized counseling psychologist, Dr. Lawrence K. Jones, NCC, Professor Emeritus at N.C. State University.