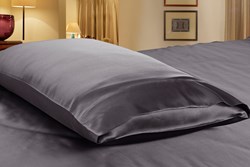 We aim to bring the best products and service to our customers.
Tukwila, WA (PRWEB) September 17, 2013
Lilysilk.com is a renowned silk bedding online store, which specializes in manufacturing silk bedding and silk comforters for many years. Yesterday, Lilysilk made a public speech to customers and staff in their company location Nanjing City on which pillowcases prevent wrinkles. They hoped that everybody would have a clear recognition of silk pillowcases' benefits.
As an experienced and reliable online retailer of silk bedding, lilysilk regards it as their duty and responsibility to tell customers the benefits of silk pillowcases. According to Mike Lee, CEO of the company, the choice of pillowcase is very important, because face has more contact with pillowcase than any other fabric. Silk's hypoallergenic properties include a natural resistance to dust mites, fungus and mold. Besides, silk has 18 kinds of amino acids that are beneficial for skin care.
"Silk is smooth, which reduces the chance of forming facial lines and wrinkles at night. We aim to bring the best products and service to our customers. If you are only going to invest in one piece of silk bedding to start with, the silk pillowcase provides a lot of benefits for the cost... So, take pure silk pillowcases home, which can prevent wrinkles to some extent," said Mike, in his speech.
There is no doubt that a silk pillowcase is better than those made of cotton or other fabrics. Lilysilk's pillowcases are exquisitely crafted from 100% pure mulberry silk. These high quality pillowcases are available in 19 momme weight, 22 momme weight and 25 momme weight.
About lilysilk
Lilysilk is a professional silk bedding manufacturer and retailer who are offering the best quality bedding products at competitive prices. Much more tips on how to care for health and beauty are also provided to its customers.
For more information, please visit: http://www.lilysilk.com.