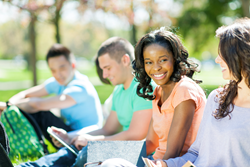 Research shows students with a close personality-major match are more likely to get higher grades, stick with their major, and graduate on time.
Portland, Oregon (PRWEB) May 15, 2014
The new college major test from career guidance leader Career Key, http://www.careerkey.org, helps students answer the question, "What should I major in?" Using this valid career test, youth and adults going back to college can make a close personality-major match research shows leads to success in college.
Unfortunately, the majority of U.S. students do not successfully complete college on time. Only 39 percent of 4-year college students graduate on time and 40 percent drop out. (National Center for Education Statistics, 2013). Costs to students are high – an average of $50,000 in lost earnings for each additional year spent in school.
Students need research based solutions to reverse this damaging trend. Personality-major match, made possible by using The Career Key's updated career test with majors, is one of these solutions. The popular, free eBook "Choosing a Major Based on Your Personality: what does the research say?" gives more details and recommendations for the public.
Large studies with thousands of students nationwide show that choosing a college major or training program that matches one's strongest Holland personality types is more likely to lead to:

Higher grades
Greater persistence in (sticking with) one's choice of major
Graduating on time
Career success and satisfaction after graduation
This kind of match is only possible using a scientifically valid, accurate measure of Holland's six personality types like The Career Key. Many students need help making this match. Only about one-third of students taking the ACT choose a major that matches their personality (2013, ACT College Choice Report).
In the same time it takes for a free college major quiz (10-15 minutes) and a small financial investment ($12.95), people can take The Career Key test and safely rely upon its results for important education decisions. A new YouTube video summarizes Career Key's approach to how to choose a major.
The Career Key career and college major test includes 12 months of access to change and update career and college majors choices. Over 400 careers and 750 college majors and training programs are broken down into easy to explore groups for each of Holland's six personality types.
As part of the test, users receive up to date, accurate information about each career and college major they choose to explore further. The test describes each major or training program, links to related websites, and gives users an unbiased way to find the colleges that offer those majors. There is no promotion of certain schools, advertising, or personal data mining.
About the Career Key
Nationally recognized counseling psychologist Dr. Lawrence K. Jones, NCC and his wife Jeanine first launched the Career Key website in 1997. Since then, Career Key has been the #1 Internet source for helping people choose careers and college majors. Advertising and registration-free, it offers a valid career and college major test, information, and advice articles based on the best practices and science of career counseling. 10% of all website sales are donated to charity and Career Key operates as an Earth-friendly organization.