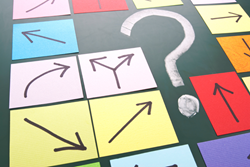 In an economy where the risks and rewards of college seem bigger than ever, using established science to decide on a college major is a necessity.
Portland, OR (PRWEB) July 22, 2014
Deciding on a college major or training program is often a stressful decision. New Career Key videos on decision making can reduce that stress by helping students answer the question "what should I major in" with confidence. In addition to videos, careers and college majors expert Career Key, http://www.careerkey.org, offers advice and an online career test with college majors based on the best science and practices of career counseling.
In the new decision making video series, nationally recognized counseling psychologist and Career Key author Dr. Lawrence K. Jones, NCC guides students through four steps based on the ground-breaking work of scientists Janis and Mann:
1. Alternatives: tips for freely exploring options
2. Consequences: how to evaluate the pros and cons of one's best options
3. Information: ways to actively search for more information, especially negative information
4. Plans: how to make detailed plans and prepare for possible negative consequences
The video series also links to relevant resources and a free Decision Balance Sheet download to fill out for each option. Dr. Jones uses himself as a case study to illustrate some of the rewards and challenges in the process.
In an economy where the risks and rewards of college seem bigger than ever, using established science to choose a college major is a necessity. Dr. Jones puts science and statistics to practical use into these videos and other college major-related articles on the Career Key website, including:

Is college worth it?
What is a college major?
Liberal arts majors, humanities, and general studies majors: their benefits and challenges
Personality-major match: Why it is important
In the Career Key website's new Videos section, Dr. Jones also shows how to achieve career and college success using Holland's Theory of Career Choice.
About The Career Key
Developed by Dr. Jones, a Professor Emeritus at N.C. State University, the Career Key website and career assessment are designed to help youth and adults make good career and education decisions they will not regret. Advertising-free, Career Key strives to be environmentally friendly and donates 10% of website sales to charity. Visit Career Key's "Learn About Us" for more information.