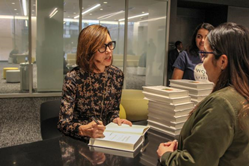 NEW YORK (PRWEB) April 09, 2019
On March 25, luminaries, C-suite executives, and top experts were honored at the Inaugural Award Ceremony of the Analytics Hall of Fame hosted at Pace University. Many of the most prominent names in the analytics and digital worlds were represented. Beth Comstock, bestselling author of "Imagine It Forward" kicked off the event, sharing her insights on change and innovation leadership, a pillar of the Analytics Hall of Fame. Comstock was interviewed by Neil Braun, Pace's Lubin School of Business Dean and former Chairman and CEO of Viacom Entertainment.
The Lubin School of Business at Pace offers a graduate program, an MS in Customer Intelligence and Analytics, and an undergraduate program, a BBA in Business Analytics. Analytics is also integrated across all business disciplines. "Data analytics is part of every business discipline in every sector of the economy and at the Lubin School of Business at Pace we are integrating it across the curriculum in addition to specialized majors, minors and degree programs," said Braun.
Comstock spoke about her career and how she anticipated and managed change. "I took my marketing degree seriously," said Comstock. "I lived in the markets. Marketing is not about advertising, it's about strategy and innovation and seeing where the world is going. So make sure you have a boss that will let you try something new."
The second part of the event recognized influential leaders in the analytics field.
"We are now entering a 'golden age' of analytics," said Tony Branda, DPS, Founder of the Analytics Hall of Fame and Professor of Digital Marketing and Analytics at Pace University's Lubin School of Business. "In this new age, it is time for practitioners and academics of analytics to have their own Hall of Fame, the Analytics Hall of Fame, providing a well-deserved center stage to recognize unsung heroes and increase professional visibility."
"I am thrilled with the support we received from those we consider to be superstars in the analytics and digital arena," said Branda. "With the support of these inductees I am hopeful the Analytics Hall of Fame can build a strong membership base and powerful community."
"Fifteen years ago, we didn't have these practitioners called Chief Data Officer or Chief Analytics Officer," said Heather Wilson, Chief Analytics and Data Officer, L Brands. "The financial crisis birthed all of this and even the digitization that is going on now. As a practitioner, I've enjoyed seeing the impact of analytics on healthcare, insurance, and banking, and now retail."
Lubin offers courses, boot camps, and competitions in response to evolving needs in the marketplace. The school also works with corporate partners to host competitions that give students professional experience in data analytics consulting projects. Winning teams are awarded internships and job interviews for full-time placements. Recent competitions were hosted by Lubin with GroupM, the number one global media investment management group.
About Pace University: Pace University has a proud history of preparing its diverse student body for a lifetime of professional success as a result of its unique program that combines rigorous academics and real-world experiences. Pace is ranked the #1 private, four-year college in the nation for upward economic mobility by Harvard University's Opportunity Insights, evidence of the transformative education the University provides.
From its beginnings as an accounting school in 1906, Pace has grown to three campuses, enrolling 13,000 students in bachelor's, master's, and doctoral programs in more than 150 majors and programs, across a range of disciplines: arts, sciences, business, health care, technology, law, education, and more. The university also has one of the most competitive performing arts programs in the country. Pace has a signature, newly renovated campus in New York City, located in the heart of vibrant Lower Manhattan, next to Wall Street and City Hall, and two campuses in Westchester County, New York: a 200-acre picturesque Pleasantville Campus and a Law School in White Plains.
About the Lubin School of Business at Pace University: Globally recognized and prestigiously accredited, the Lubin School of Business integrates New York City's business world into the experienced-based education of its students at Pace's suburban and downtown campuses, implemented by one of the region's largest co-op programs, team-based learning, and customized career guidance. Its programs are designed to launch success-oriented graduates toward upwardly mobile careers. http://www.pace.edu/lubin.
About the Analytics Hall of Fame: The Analytics Hall of Fame is a digital destination for the analytics industry. Features include practitioner recognition, peer recognition awards, company recognition, and a networking portal. The Analytics Health Check provides AI validation and analytics monitoring designed to help C-suite executives and board members achieve payback from analytics while ensuring privacy and ethical standards. The recruiting portal is a source of talent.
Membership is open to professionals in the following disciplines: Analytics (Insights, AI, Data Science); Business Intelligence and Big Data; CRM (Mar-tech, Sales, and Marketing Automation); Digital Marketing and Analytics (Social Intelligence); Research (Marketing, Market, and Competitive Intelligence). To learn more about membership: https://analyticshalloffame.com/memberships/.
Awards are offered in five categories in global, country, and industry leadership. Award nominations are now being accepted for the second quarter of 2019: https://analyticshalloffame.com/nominate/.
Find the Analytics Hall of Fame on social media: Facebook, LinkedIn, Twitter, Instagram, YouTube.
A panel of expert judges evaluates submissions from the professional and academic communities. Judges for the 2019 – 2020 term include:

Tony Branda, DPS, Founder – Analytics Hall of Fame; former CAO at Citi and RBS and Professor of Digital Marketing and Analytics at Pace University's Lubin School of Business.
Dawn Donnelly, Awards Judge – a Senior leader in Analytics at Walmart.
Kevin Kramer, Ph.D., Awards Judge – former CAO of Analytics Aetna, Bank of America.
George Ling, Awards Judge – consultant to major banks in analytics and marketing.
Jim Sterne, Awards Judge – best-selling author of digital marketing books.
Mark Weber, Awards Judge – former head of market research at Bank of America.
The Hall of Fame honored nine Global Leaders in the inaugural ceremony: https://analyticshalloffame.com/global-leaders/
Beth Comstock, former Vice Chair and CMO of GE.
V. Kumar, Editor-in-Chief of the Journal of Marketing and Director of the Marketing Ph.D. Program at Georgia State University.
Tom Davenport, academic, author, and one of the top business/technology analysts in the world.
Bill Franks, Chief Analytics Officer of the International Institute for Analytics and past CAO of Teradata.
Vishal Kumar, researcher, educator, and founder of Analytics Week.
Heather Wilson, Big Data and Analytics expert with senior leadership roles at Kaiser Permanente, Citigroup, AIG, and L Brands.
Marcia Tal, developer of the Global Decision Management function and founder of Tal Solutions.
Randy Bean, Founder and CEO of NewVantage Partners, and recognized industry authority in Big Data, AI, and business innovation.
Gina Papush, Global Chief Data and Analytics Officer at Cigna Corporation, with former leadership roles at QBE Insurance Group, Citigroup, Fulcrum Analytics, and GE Capital.
Industry Leaders that were recognized in the ceremony include: https://analyticshalloffame.com/industry-leader/

Carmel La Sala, analytics leader at both Citibank and Chase.
Eric Sandosham, Founder & Partner, Red & White Consulting Partners, and former Managing Director and Head of Decision Management at Citibank.
Deep Thomas, Data Analytics evangelist with leadership roles at Aditya Birla Group, Tata Group, and Citigroup.
Theresa Kushner, a partner at the consulting firm Business Data Leadership, B2B Data and Data-Driven Marketing expert with a history of senior roles at Dell, VMware, Cisco, and IBM.
David Bradley, founder of the Bradley Business Group, best-selling author, and Digital Marketing expert.