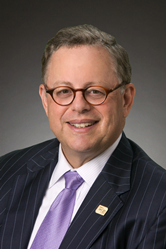 "This program offers a great overview of relevant trends in M&A dealmaking, put into context for the middle market. The wide range of perspectives is invaluable as you're putting together your strategy for the year — and it's a unique opportunity to connect with potential partners."- Ryan Rassin
CHICAGO (PRWEB) October 23, 2019
Tariff uncertainties. A tight labor market. Contractions in manufacturing. Will these business challenges persist into 2020? What new trends are likely to emerge?
For answers, nearly 300 middle market M&A dealmaking professionals will turn out at the Association for Corporate Growth Chicago's annual Market Trends Breakfast, set for January 30 at the Palmer House Hilton.
Headlining the event will be Jeff Korzenik, Chief Investment Strategist for Fifth Third Bank, who will delve into a number of market factors that could impact business growth in the coming year.
"We're thrilled to have a respected thought leader like Jeff kick off our discussion," said Ryan Rassin, Managing Director at LBC Credit Partners and ACG Chicago's Private Equity Committee Chair.
Korzenik, who is responsible for Fifth Third Bank's overall client investment strategy, is a regular guest on CNBC's Squawk Box and Bloomberg, and his writings on economics and public policy have been featured in Barron's, Forbes and the Chicago Tribune, among other periodicals. A leading expert on private sector models for the re-employment of ex-offenders, Korzenik has also testified on Capitol Hill as an expert witness on the use of commodity indexes by pensions and other institutional investors.
Following his keynote at the ACG Chicago event, Korzenik will be joined by a panel of experts in the private equity, investment banking and debt markets for a more in-depth discussion on the 2020 outlook.
"This program offers a great overview of relevant trends in M&A dealmaking, put into context for the middle market," Rassin said. "The wide range of perspectives is invaluable as you're putting together your strategy for the year — and it's a unique opportunity to connect with potential partners."
The ACG Chicago Market Trends Breakfast is expected to draw some 300 attendees, including investment bankers, private equity firms, private debt providers, commercial lenders, and a range of service providers from law firms to valuation specialists. The event will run from 7:45 to 10:30 am on Thursday, January 30. For additional details and to register, go to https://www.acg.org/chicago/events/classic-market-trends-breakfast.
Visit acgchicago.org for more information or call 877-224-6389.
Stay connected:
Facebook: https://www.facebook.com/acgchi
Twitter: https://twitter.com/acgchicago
LinkedIn: https://www.linkedin.com/company/acg-chicago