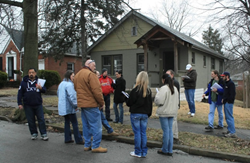 "This is truly a one of a kind experience for both new and seasoned Real Estate Investors."
FORT WORTH, Texas (PRWEB) February 27, 2019
The Property Buying Tours team has been providing real estate investment education and training programs since 2002 and has most recently put a fresh spin on the conventional real estate investment model. Property Buying Tours is providing a different kind of education to their students with this new and improved training model – one that aims for true understanding and execution.
Property Buying Tour has done away with the traditional weekend seminars, crammed in a hotel conference room, listening to a lineup of people pitching their own products. Property Buying Tour has created a hands on, done with you, real estate investing experience like nothing else out there. Aimed at educating, and assisting investors in acquiring properties in pre-vetted markets around the United States, all in one weekend. Property Buying Tours also limits their tours to cities where the PBT and power teams currently invest in themselves.
"This is truly a one of a kind experience for both new and seasoned Real Estate Investors." said Robert Roberts, one of the co-founders of Property Buying Tours. We've already exceeded expectations, with hundreds of students registering for our tours since we began this venture and then attending 2nd and 3rd tours in other markets. "The feedback we've received from our tours has been tremendous, with most students walking away with new investment properties in new markets they were not familiar with before, and not only experienced a jam packed educational weekend, but a profitable one as well." He said.
The Property Buying Tour (seen at https://www.propertybuyingtour.com/learn-more-now) gives investors a first hand opportunity to train with and be mentored by Attorney Robert Roberts and his Power Team directly. His power team is comprised of Real Estate Agents, Attorneys, Brokers, Contractors, Lenders, Appraisers & Inspectors. Roberts and his team work together to provide timely, vital and informative information, tools and resources, making this an invaluable learning experience as well as an opportunity to purchase pre-vetted residential and commercial properties in some of the hottest real estate markets in the country.
"Our intention is to truly help our students by educating them about the power of real estate as a long term investment vehicle," says Roberts. "Since the real estate market is shifting, many people want to know how to take their money out of a market where it isn't making sense and put it into a market where their money can work for them." PBT caters to new and seasoned investors alike. Whether you are an experienced investor and are just looking for the best market research on the "next hot area" or are a new investor looking to get started in the field, a Property Buying Tour is the leading resource out there today for hands on "in the trenches" training.
Property Buying Tours is a training and education company lead by Fort Worth based Attorney Roberts and his team. The company was built upon decades of experience in Real Estate Investment, Real Estate Law, Investor coaching and education, Tax Loans, Mortgage Brokering, Property and Tax Foreclosure and Online Marketing. PBT's mission is to create unparalleled educational services in the Real Estate Investment space.
Property Buying Tours maintains its corporate headquarters in Fort Worth, TX.
For more information on the buying tour training, visit https://www.propertybuyingtour.com/learn-more-now
Media Contact: For more information or press inquiries, call 1-817-689-9534