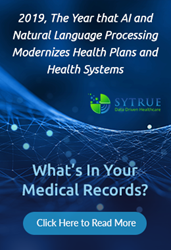 At SyTrue we have the perspective that a medical record should only be read one; identifying all the Insights contained to be published downstream for healthcare experts review said Kyle Silvestro, President and CEO
CHICO, Calif. (PRWEB) January 15, 2019
Imagine a technology can read and comprehend medical records for downstream publishing, regardless of format.
Imagine processing a single medical record to publish insights across your enterprise, TODAY, for multiple purposes. One processing event bringing insights for multiple use cases, Clinical Audits, Medicare Risk Adjustment, HEDIS, STARS, Adverse event reporting, Clinical analytics, Pharmacy analytics, Population health, High-Cost drugs efficacy, Claims adjudication, Interoperability, Clinical documentation improvement, HERO, Enterprise data standards, all by only touching a medical record only ONCE, then using that data to drive value for all stakeholders.
At SyTrue we have this perspective. We strongly believe that a medical record should only be read once; identifying all the insights contained to be published downstream for healthcare experts review.
The amount of time and productivity currently wasted collecting and distributing the same medical records to multiple healthcare experts, in multiple areas and systems, so they can all read the documents to gain their perspective, is a enormous cost that should be a thing of the past!
Please watch this short video to find out "What's in Your Medical Record" and how that information can save US taxpayers Billions of dollars.
For additional detail please download our e-book https://sytrue.com/advancing-health-plan-data-insights/ and find out how SyTrue can advance your Health Plan; ONE MEDICAL RECORD AT A TIME, ENTERPRISE-WIDE.