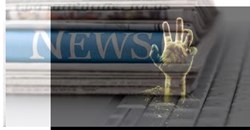 Visit The Skillets & More News Release Library
Kingston, NY (PRWEB) October 31, 2013
The news was so bad that erelease.com cautioned individuals to lock their doors, turn off the lights, close the blinds and remain very very quiet. Are they right? One would have to believe such news would have to be disheartening after having distributed nineteen news releases on portable cookers such as outdoor grills and deep fryers. However, company executives believe they have a remedy that will breath new life into old outdated news releases.
Most businesses never go beyond the printing and distribution of their company news releases. Their news releases therefore become "brain-deficient corpses stumbling around the web" as erelease.com describes them. The company's CEO, Jerry McGahan, says that while the research finding initially sounds grim there is an easy way to turn this negative into a positive.
Visiting and chatting in the social media chat rooms is certainly one way to breath new life into an outdated news release. It must be done right, however, or the company could run the risk of turning people off. In addition, most small businesses don't have the time or budget to assign someone to this time consuming task.
However, there is another way which is not so time consuming or expensive and that is to build a library page of company news releases. The time most people want to learn more about a company is when they are visiting a company's website for the first time. It makes for a great addition to what has become the standard "About Us" web page. A news release page is a fantastic way to add credibility. Potential customers can see at a glance how long a company has been in business and better judge for themselves if what is written in a company's "About Us" section of the website rings true.
News releases still carry a great deal of value but only if they business are willing to invest in some sort of follow up. Otherwise they really do become like erelease.com describes them like walking zombies.