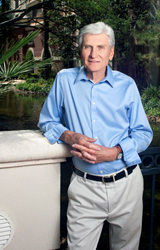 When "things are said and done," we usually find that more has been said than done. Time is like money, it needs to be spent wisely.
(PRWEB) January 22, 2015
Few people have résumés as impressive as Bill Svoboda's: Born during the Great Depression, he managed to rise out of his circumstances to receive a Navy scholarship; earn his bachelor's, masters, and doctorate; and become an expert in motivation and education. He has also founded PotentialIMAX, a company dedicated to help individuals and organizations truly take full advantage of their potential. As a result, Dr. Svoboda is uniquely placed to motivate and inspire others. His upcoming book, What's Most Important aims to do just that.
In What's Most Important, Bill Svoboda covers five factors of life to assist readers in pinpointing what's truly important in their lives. While doing so, he also provides tactical tips and steps readers can use to attain a greater quality of life in five areas: Physical Health, Mental Health, Financial Security, Critical Thinking and Problem Solving Skills, and Social, Environmental and Personal Responsibility. All of the advice in the book has truly helped Svoboda throughout his life; he takes care only to share what information and tips have worked for him. Living with a philosophy of making the world a better place, Svoboda works to help others improve their lives, knowing that through doing so, the wider world is positively affected.
Svoboda, who remains youthful and active in the face of his 78 years, frequently leads presentations and training engagements as a speaker, trainer, and business consultant. He will also continue to motivate others through his incredible life story, unparalleled skills, and What's Most Important, which follows on the heels of his first book, Your Choices, Your Life. Launched this winter, Your Choices, Your Life was published through Next Century Publishing, which will launch What's Most Important during the summer in 2015.
Dr. Bill Svoboda
Dr. Bill Svoboda holds a doctorate from the University of Kansas and has taught in public schools in both Kansas and Puerto Rico as well as at Kansas University, Missouri University, the University of Puerto Rico, the College of National Education in Tanzania and Arizona State University. Since his retirement in 2000, Dr. Svoboda has served as Chief Operations Officer for the West Valley Child Crisis Center and is the founder of PotentialMAX, a company that is designed to help individuals and organizations maximize their potential.