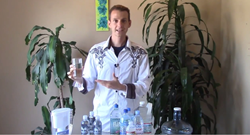 Los Angeles, CA (PRWEB) June 24, 2014
With so many different types of water choices available, it can be difficult to know which type is the best for a person's body. Water is one of the crucial elements a person consumes in their lifetime, so choosing one that is healthy is extremely important. Conscious Counselor spokesperson, Sead Pepic, explains in a new video what is the best drinking water and why.
In the video, Pepic outlines the different types of water, including: tap, basic filtration such as a filtered pitcher, advanced filtration such as reversed osmosis, and spring water from the earth. To view this video, please go to: https://www.youtube.com/watch?v=JGpK0kb1Yjg
"Our bodies consist of 70 to 80 percent of water, so we want to drink a lot of water every day," says Pepic.
"For tap water, if you're in most areas, there is chlorine [and] fluoride. Since I'm really hydrated, if I'm traveling and there is only tap water [available] I still won't drink it," Pepic continues.
Pepic explains that basic filtration systems, such as a Brita pitcher, offer a quality one step above tap water. He says if he is offered this basic-filtered water, he will drink it more willingly than he would tap water. This system converts tap water to a higher quality on the spot.
The real question, Pepic says, is what is better for someone; advanced filtration water or spring water. With advanced filtration systems such as reverse osmosis, labs add minerals to the water to make up for the minerals not coming from the earth. Pepic explains that this water is not produced naturally and not as much of a trustworthy source of water. For the full video, please click on: What is the best drinking water, spring or filtered?
With the earth being over 4 billion years old, Pepic explains, the earth has come to develop its own natural advanced filtering system for water. By being filtered year after year, spring water is pure and natural.
"If I had to pick one [type of filtered water], I would pick spring water. It has basically been filtered for hundreds of years that the earth just provides for us. [Humans] are trying to replicate it. We're not there yet. We're not there yet to replicate mother earth's water," says Pepic.
There are many different types of brands for spring water. The three most popular ones are Fiji, Evian, and Iceland Water. Pepic also suggests finding local brands of bottled spring water and determining which one is best for themselves.
Another option, which is what Pepic does the most, is to take large bottles to a natural spring. There he fills up about four bottles where it lasts him a month. By visiting sites like FindASpring.com, one can find many different springs near cities and country sides. To view another article on this, please click on: What is the better drinking water? Filtered or Spring?
Shower filtration systems are another issue, explains Pepic. He says, "If you don't have a shower filtration system, you absolutely need one. One study shows that [humans] absorb more water through their skin than when they do when they drink, which is astonishing. I have two [shower filtration systems] hanging on my shower head."
These shower filtration systems take out harsh elements that should not be absorbed through the skin such as chlorine.
Whether someone is already a fan of bottled water and is wondering which type is best, or if someone was wondering what tap water really contains, this video of Conscious Counselor is extremely education and enlightening to the way water systems work and which ones are best.
Sead Pepic has recently started an organization called Conscious Counselor, which brings to light healthy ways for living. This is for all subject matter, whether it is food or every day life. Some of his other videos are: Basic foods to east and not eat, how to make raw nut yogurt, the differences between men and women, how to be happy, and more. You can look up Conscious Counselor on you tube to find these videos. Or to stay connected with Sead, please visit him on facebook: https://www.facebook.com/sead.pepic.14
Sead Pepic
Conscious Counselor
(845) 494-0969
http://www.ConsciousCounselor.com