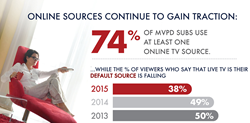 Live TV still accounts for more viewing than any other single source--but the number of people who say that live TV is their DEFAULT source has dropped dramatically since 2013.
Boston, MA (PRWEB) April 30, 2015
New data from Hub's third annual "What's TV Worth" tracking study shows that traditional MVPD subscriptions remain ubiquitous, even among younger consumers. However, there's increasing evidence that the center of the TV universe has already shifted—away from live TV and toward online video alternatives.
The cord cutting revolution has yet to materialize. Among consumers with broadband and who watch at least 5 hours of TV per week…

89% have a subscription to cable, satellite, or telco TV service. This holds true even among Millennials (87% have a pay TV subscription).
Live TV accounts for more total viewing than any other source. The average respondent says that live TV accounts for 40% of all TV viewing—more than any other single source.
On average, consumers feel that live TV is their "most indispensable" TV source. Among those who use more than one source, we asked: "If you had to cut all of your TV sources EXCEPT one, which one would it be?" Close to half (45%) chose live TV—the highest percentage of any source.
HOWEVER, it's clear that online content has already begun to replace live TV as many viewers' path of least resistance.
Mainstream TV consumers now routinely watch online. Three quarters (74%) of those with a Pay TV subscription also use at least one online TV source.
The average number of online sources and devices used is climbing—and climbing rapidly. In 2015…
- The average MVPD subscriber uses 2.4 online TV sources (e.g. Netflix, Hulu, apps from a TV network, etc.) – up from 2.0 in 2013, and 2.1 in 2014
- Among those who watch online at all, the average viewer uses 3.3 different devices to watch online content (Smart TV, Roku, computer, tablet, phone, etc.)—up from just 2.3 in 2013, and 2.7 last year.
Although live TV is still the number one "default" source of content—the one viewers turn on first when they want to watch TV—the number who say so has dropped dramatically. In 2013, 50% of viewers said that live TV was their default. In 2014, it was 49%. In 2015, only 38% say that live TV is their default source. By contrast, Netflix has increased 6 points as a default source, to 20%.
The Implications: "This isn't all bad news for traditional TV providers—more TV than ever is being watched, and a great deal of online viewing happens on platforms that traditional TV providers control, such as authenticated TV Everywhere apps from MVPD's and networks," said Jon Giegengack, one of the study authors. "However, it does appear we've reached an inflection point where online viewing is replacing live viewing as the center of gravity. And that means that it's more important than ever for networks to be able to measure and value their audience accurately, across a wide variety of platforms."
"At least for the moment, interest in standalone online subscriptions, like Sling TV and PlayStation Vue, appears to be low among TV consumers in general," said Peter Fondulas, the study's other author. "However, younger viewers are much more likely to find these offers compelling. If these products start introducing the features that matter most to consumers—such as a deeper on-demand catalog, DVR capabilities—they may gain significant traction."
About this Research
"2015: What's TV Worth" is an annual tracking study among 1,500 US consumers with broadband, who watch at least 5 hours of TV per week. Hub has conducted this study since 2013. An excerpt and infographic of the report are available as a free download from Hub Entertainment Research. The study was conducted in April 2015.
About Hub Entertainment Research
Hub Entertainment Research is a market-research firm with deep expertise in television, movie, videogames, music, publishing, and sports—anywhere that entertainment and new technology overlap. In the television industry, Hub analysts work with networks, content producers, MSOs, and digital distributors. Our job is to help our clients understand the greatest risks and most-promising opportunities facing their companies and to reveal the clearest paths to success in a changing marketplace. For more information, please visit us at http://www.hubresearchllc.com.