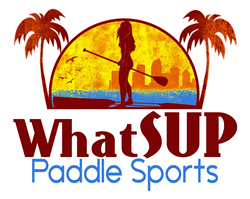 "We instruct a variety of private and group paddle sessions on premium paddle boards kayaks and land paddleboards—lessons, tours, rentals, fitness classes, and paddle excursions," Blosser said
Tampa, FL (PRWEB) February 10, 2017
Tessa Blosser, founder and owner of WhatSUP Paddle Sports, has announced a new location at Ben T. Davis Beach. Details of its Feb. 18 grand opening can be found at https://www.facebook.com/events/752319841587770.
Blosser is a bona-fide, sun-drenched beach-lover who graduated from the University of Florida with a Masters Degree in Education; she is a certified instructor for the World Paddle Association, PaddleFit, and H2YO.
SUP, which stands for "Stand Up Paddleboarding," offers a fun and relaxing way to enjoy a full-body workout on the water. WhatSUP provides paddling instructions in the Tampa Bay area. Its new location is 7740 W. Courtney Campbell Causeway, Tampa, FL 33607. The grand opening kicks off Saturday, Feb. 18, at 8:30 a.m.
"We will start off the day with a 2-mile paddle social followed by a raffle and cutting of the ribbon," Blosser said. "Boards will be available to demo throughout the day."
A portion of the proceeds from the paddle social and raffle will go to Paddle4Autism, a local non-profit organization that provides individuals with autism the opportunity to participate in activities in and out of the water.
Vendors involved in the WhatSUP's grand opening include Rooker Outdoors, SOHO Juice Company, Tampa Parks & Recreation, Liz Anthony Nutrition, Sun Bum Surf Outfitter, BIC SUP, Hook Tribe, Fitlife Foods, Invictus Paddling Club, and Meyer Inspired Photography.
Here's the grand opening's schedule of events:
8:30 a.m. – Paddler's Check-In
9 a.m. – Paddle Social Meeting
9:15 a.m. – Mini-Lesson (if needed)
9:30 a.m. – Begin the Paddle Social
11:30 a.m. – Return back to the beach
11:30 a.m. – Lunch
1 p.m. Raffle – Drawing
1:30 p.m. – Ribbon cutting
The Paddle Social will be a 2-mile trek around the bay. There's a $10 donation for those who bring their own board; it'll cost $25 to rent a board. There will be a mini-lesson before the social begins.
Lessons are a key component of WhatSUP's offerings.
"We instruct a variety of private and group paddle sessions on premium paddle boards kayaks and land paddleboards—lessons, tours, rentals, fitness classes, and paddle excursions," Blosser said. "All levels are welcome to come experience some fun on the water with friends and family."
"Some of the most picturesque, pristine, and unspoiled paddle destinations on Earth are located within a reasonable drive from Tampa," Blosser said. "Central and Northern Florida are home to several crystal clear freshwater springs that offer a truly unique experience. Let us show you places in the real Florida that conjure up the legend of the Fountain of Youth."
In addition to excursions, WhatSUP coordinates birthday parties, bachelor/bachelorette gatherings, corporate events, team-building activities, girls' night out, and moonlight paddles. It also sponsors lessons, tours, fitness, and kids camps as well as SUPYoga and SUPFit activities.
For more information about Whatsup Paddle Sports, call (813) 999-6414 or visit http://www.WhatSUPPaddleSports.com.
ABOUT: Whatsup Paddle Sports is at 7740 W Courtney Campbell Causeway, Tampa, Florida 33607. It provides paddling instruction and adventure in the Tampa Bay area and offers a variety of private and group paddle sessions. Tessa Blosser, the company's founder and owner, is a certified instructor for the World Paddle Association, PaddleFit, and H2YO.