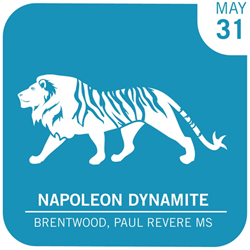 This will be a fun evening event for all ages featuring a real cult classic film.
(PRWEB) May 26, 2014
Eat|See|Hear, the host of movies in the park in Los Angeles, is hosting an upcoming event on Saturday, May 31 at Paul Revere Middle School in Brentwood, CA. The event begins at 5:30 and features food trucks, a performance by a local up-and-coming band and will conclude with a showing of the 2004 film Napoleon Dynamite starring Jon Heder at 8:30 p.m.
The middle school is located on 1450 Allenford Avenue in Los Angeles, CA. Easily accessible from Santa Monica, the school is up the road from San Vicente and 26th Street, as 26th turns into Allenford, so it's very close and convenient to the West Side. Please note that The the only entrance to the event is on Allenford Ave. at Sunset. There is parking available on-site for $5. Additional limited street parking is available, but Eat|See|Hear reminds patrons to park with care to avoid being ticketed or towed. The event is also dog-friendly and four-legged friends will be treated to a free biscuit at the door.
The event is open to all ages. Napoleon Dynamite is rated PG. Tickets are available in advance for just $10; tickets for children ages 12 and up $8 and kids under 5 will get in free. Tickets may be purchased in advance online. Food trucks for this event will include Rushed Art Truck, Hamborghini, The Melt Bus, VCHOS, Tokyo Doggie Style, Coolhaus, Brasil Kiss, and Royal Red Velvet.
"This will be a fun evening event for all ages featuring a real cult classic film," said Sharon Sperber, Executive Producer of Eat|See|Hear. "Paul Revere Middle School is a wonderful location for this event. It has previously hosted the Los Angeles Symphony Orchestra and was even a filming location for the hilarious film 'This Is 40!' We so appreciate being able to host our event here."
Eat|See|Hear is LA's premier outdoor movie, food truck and live music event series that brings an evening of fun to Los Angeles-area communities each summer. The third annual series is presented by SHOWTIME, featuring up-and-coming bands from the local music scene, the hottest food trucks, and the only 3-story high, 52-foot wide inflatable movie screen west of the Mississippi with the highest quality HD-projection and digital surround sound. Eat|See|Hear is produced by LA-based Trailhead Marketing, Inc. with audio-visual provided by Hollywood Outdoor Movies. For more information about the third annual Eat|See|Hear summer event series, consumers are encouraged to visit the Eat|See|Hear website at http://www.eatseehear.com, as well as the Eat|See|Hear Facebook page, Twitter feed (@EatSeeHear) and Instagram (@EatSeeHear) for the latest updates.