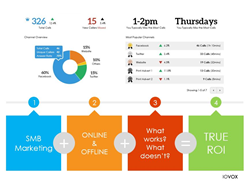 At IOVOX we frequently hear from customers that insights from our analytics are transformative in their business - Carl Di Cicco MD IOVOX EMEA
Rust, GERMANY (PRWEB) March 24, 2015
IOVOX, a global cloud-based provider of communications analytics for Enterprise and Small and Medium Businesses (SMBs), announced today that Carl Di Cicco, its Managing Director, EMEA will be presenting at World Hosting Days. WHD.global held March 24-26 in Rust, Germany, is the world's largest hosting event with over 6,000 attendees from leading companies around the globe.
In a session titled "Increase Customer Engagement Through IOVOX Analytics", Di Cicco will outline how IOVOX analytics can be easily integrated into hosting provider offerings and will demonstrate tangible business benefits from customers that have deployed IOVOX analytics.
"At IOVOX we frequently hear from customers that insights from our analytics are transformative in their business and impact the way they make decisions," said Carl Di Cicco, Managing Director, EMEA for IOVOX. "When IOVOX analytics are part of a hosting provider's core offering, the provider is enhancing the value they deliver to their users while creating new streams of revenue and improving user loyalty."
IOVOX's platform is Parallels Automation (PA) certified making integration with the PA environment straightforward and speeding time to market opportunities for hosting providers utilizing the PA platform. The IOVOX analytics solution is available on APS 2.0 version 5 and the upcoming version 6.
IOVOX WHD.global Presentation Details:
When: Thursday, March 26, 2015 at 15:25 pm (CET)
What: "Increase Customer Engagement Through IOVOX Analytics"
Where: Circus Celebration Venue
IOVOX is also exhibiting at WHD.global and can be found at Booth B03.
About IOVOX
IOVOX provides global cloud-based analytics that measure communications engagement for Enterprise and Small and Medium Businesses (SMBs). Trusted by hundreds of thousands of businesses around the globe, the IOVOX analytics platform has been adopted by clients in 32 countries and across a wide variety of vertical markets empowering marketers and operational managers with transformative business insight. For more information visit IOVOX. Follow us on LinkedIn and Twitter.