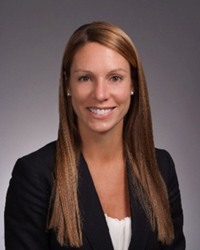 The Wheaton law firm of Rolewick & Gutzke, P.C. announces the hiring of Associate Attorney Kathryn C. Rolewick.
Wheaton, IL (PRWEB) February 29, 2016
The law firm of Rolewick & Gutzke, P.C. is pleased to announce that Kathryn C. Rolewick has joined the firm as an associate attorney.
Rolewick was admitted to practice law by the Illinois Supreme Court in 2013. She has been working as a Trust Administrative Officer for U.S. Trust, Bank of America, N.A. since graduating from Loyola University Chicago School of Law in 2013. She is now happy to be joining the firm founded by her father, David Rolewick, in 1978, and they will be working together in the areas of estate planning, wealth management, probate estates, contracts, and general corporate and business structures.
A graduate of Wheaton Warrenville South High School in Wheaton, Illinois, Rolewick attended Boston College where she graduated cum laude from the Honors Program in 2004. She is a member of the DuPage County Bar Association, the Chicago Bar Association, the Illinois State Bar Association, and the American Bar Association. She has been a member of the ISBA Trusts & Estates Section Council since 2014. Rolewick lives in the western suburbs with her husband and young son.
About Rolewick & Gutzke, P.C.
The law firm of Rolewick & Gutzke, P.C. is located in Wheaton, Illinois. Since 1978, the attorneys at Rolewick & Gutzke, P.C. have successfully represented businesses and individuals in DuPage County and throughout Illinois. The firm offers services in a wide range of practice areas including: estate planning, business formation, corporate maintenance, contracts and contract disputes, real estate, and civil litigation. For more information please call 630-653-1577 or visit http://www.rglawfirm.com.