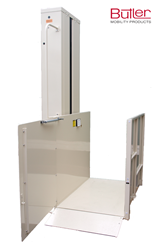 Vertical platform wheelchair lifts for home use are a practical solution.
Lewisberry, PA (PRWEB) October 15, 2013
Butler Mobility's new Vertical Platform Wheelchair Lifts for home use are a practical solution to raise a wheelchair from floor-to-floor. This helps to give the user access and independence in their home. The vertical platform lift, which is equipped with a folding end ramp, automatically closes and has a guard that locks securely in place during operation. The unit is also usable both indoors and outdoors, which provides a convenient solution.
As a durable and practically maintenance-free wheelchair lift, it can hold up to 750 pounds, making any home accessible and feasible. Allowing the user to stay active and move freely, the lift also has many other helpful features. In the event of a power failure, the wheelchair lift has an emergency hand crank that can transport it slowly and safely to the lowest level of the building.
The unit has a parts and labor warranty of up to five years and the ability to be used in all types of weather, from -20 degrees to +120 degrees, Butler Mobility Vertical Platform Wheelchair Lifts for home use are safe and cost effective.
Additional features include an optional key-operated control system, which provides additional safety and ensures that the lift does not move until the user is ready. A non-skid platform and ramp, the lift also has a weather resistant powder-coated finish. The electrical system is also placed above the ground and sealed against any moisture leaks.
For more information about Butler Mobility's Vertical Platform Wheelchair Lift call toll-free at 888-847-0804 or contact us.
Media Contact
Pat Small
717-938-4253
psmall(at)butlermobility(dot)com