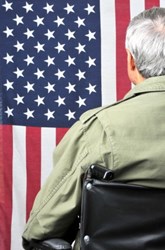 We are a complete, durable medical equipment facility geared toward accessibility and lifting systems.
Mechanicsburg, PA (PRWEB) February 16, 2014
"We're doing a lot of work with veterans," Howard said. "Some of our veterans are coming home with no legs."
His client was a veteran who was confined to the third floor of his residence because he couldn't get up and down stairs and move around on other floors without his wheelchair. The veteran had hired a carpenter to help make the house more accessible, but the contractor took the vet's money before the project was fully complete and left the house in ruins.
"It was a mess. It broke my heart to see that somebody would treat a veteran like that," Howard said. Howard was called in to remedy this terrible situation. He and his team installed a Butler Mobility Inclined Platform Wheelchair Lift. The lift system allows the vet to take his wheelchair up and down the stairs, so he can use it on every floor of the home. "We made it safe for him to ride up and down the stairs," Howard said. Previously, the man had to be carried down the stairs by someone else, or he would crawl using his arms. "After we got this lift installed, you could see the tears in his eyes, he was finally able to get up and down stairs and around the house with dignity."
Howard's company has been in business since 1987. Inspired by working for an ambulance service, he saw that there was a need for easier transportation methods for clients with disabilities.
Over the year, the business has evolved. Today, Howard Distribution provides many different kinds of accessibility products and services, including wheelchair lifts, chair lifts, lifts to get scooters into vehicles, roll-in showers, home modifications and much more.
"We are a complete, durable medical equipment facility geared toward accessibility and lifting systems," he said.
Because Howard is an independent dealer for Butler Mobility, he has also had opportunities to test many different types of lift systems. He has found that Butler Mobility produces a dependable and reliable product. Discussing another brand he had installed, he found that "it was such an inferior product compared to the Butler lift. It was a real hassle."
Howard searched the Internet for an alternate product and found Butler Mobility by chance. He's been pleased with the products ever since. "It's very solidly built. I don't have to worry about plastic breaking or stripped screws."
He inspects every lift that arrives to his business, prior to installation."The unit comes to me, I uncrate it, inspect it, make arrangements and we get it installed," Howard said, adding that ease of setup is another part of the process that makes Butler Mobility's lift system unique. He reports that he has not received any service calls for repairs, which he says tells him that "this is a well-built product."
"They build a good quality product and we feel that it's a very good fit for our industry, I pride myself on picking the best of the best."
For more information visit Butler Mobility Products http://www.butlermobility.com, Howard Distribution Inc. http://www.howarddistribution.com.
Media Contact
Patricia Small
717-938-4253
psmall(at)butlermobility(dot)com