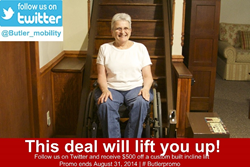 Follow Butler Mobility on Twitter for special offer.
Lewisberry, PA (PRWEB) July 01, 2014
Butler Mobility's inclined platform lifts are manufactured in the USA and are custom built to the individual home owner's specifications and needs. All electrical components are UL certified, and their state-of-the-art power unit has recently been recertified to ASME A17.5/CSA B44.1-11, meeting approval standards for Elevator and Escalator Electrical Equipment. Our wheelchair lifts are designed for easy and cost-effective installation. Butler's inclined platform wheelchair lifts come standard with battery backup and a five (5) year warranty on parts.
Customers have been provided with wheelchair lifts that improve the quality of their lives for over 50 years. Butler Mobility delivers freedom, independence and convenience with safe and reliable products that are ideal for residential accessibility applications.
All it takes to receive the special offer of $500.00 off on a Butler Mobility wheelchair lift is to follow them on Twitter. This promotion will end August 31, 2014. Butler Mobility's Twitter handle is @Butler_mobility. The company is also on LinkedIn, Facebook and YouTube.
LinkedIn: https://www.linkedin.com/company/butler-mobility-products
Facebook: https://www.facebook.com/butlermobility
YouTube: https://www.youtube.com/user/butlermobil
Butler Mobility lifts are known in the industry as "The Lift that Lasts". Call toll free at 888-847-0804 and see if they can help with your home lift needs, or visit them on their website at http://www.butlermobility.com
Media Contact
Patricia Small
717-938-4253
psmall(at)butlermobility(dot)com