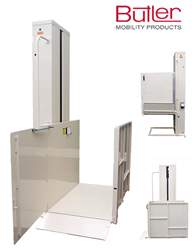 We're just so happy to have this.
Lewisberry, PA (PRWEB) February 22, 2014
Not only has the lift helped increase a 17 year old' s independence throughout the family home, but it has also helped them avoid going outside of the house during a bad storm.
"Before the wheelchair lift, in case of threatening weather, we would have to take our daughter out and around the house. We have a walk-out basement and that was the only way to get her into the basement. Now, we don't have to worry when there is bad weather," her mother said.
"Knowing she can go to safety is such a relief," she said. The family said the wheelchair lift helps most with safety, but also with everyday access in the house. "We have set up a little office in one of the extra bedrooms downstairs. She can go down there whenever she wants and work on her computer. It does give her a lot of independence,"
Central Plains Lifts, a subsidiary of Taylor Drug Plus in Arkansas City, Kansas, worked with the family to find a lift that would best suit their needs. "We had a really hard time finding a product appropriate for them," he said. "Other wheelchair lifts don't have a good reputation for reliability and a high-performance battery backup. We really had to do some searching and we were glad to find the Butler product." He said that once he learned about the Butler lift, he didn't feel comfortable selling the family anything else.
Before the family had the lift installed, Butler Mobility connected them with another user of the lift. Gary Dacus of High Plains Adaptive Concepts, in Wichita, Kansas, graciously invited them into his home to demonstrate his wheelchair lift and talk about the product. "It's a niche that Butler fills," Mr. McGuigan said. "I think that's a selling point for them." He said that he was first impressed with the installation of the product and that the lift system was "very, very well-built."
The family agreed that having the wheelchair lift has improved many aspects of life.
"We are much happier," she said. "I do want to say that Mark and Pete, those are the two that put the lift in, they were just so nice and would do anything they could for us. We're just so happy to have this."
For more information on Butler Mobility inclined platform wheelchair lifts, visit http://www.butlermobility.com.
Media Contact
Patricia Small
717-938-4253
psmall (at) butlermobility (dot) com