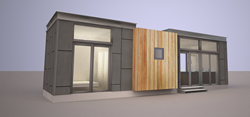 Each cabin features one bedroom, a bathroom, a kitchen/living room and a private deck.
Jackson Hole, WY (PRWEB) November 28, 2014
Whether you call them tiny houses, cabins on wheels, recreational park trailers, or park model homes, Wheelhaus designs, builds and delivers a great looking line of them. Now, the company is expanding its collection of innovative and sustainable designs with the introduction of the ultra-modern ModHaus. ModHaus is a one-bedroom unit with sleek exterior paneling and a contemporary architectural style. ModHaus is $89,500 with all appliances and hardware included. To see of all of the Wheelhaus designs and learn more visit, http://www.wheelhaus.com.
ModHaus features a sliding side door entrance to a home offering one bedroom, one bathroom, kitchen/living room and a private deck. The bedroom is sized to accommodate a king-size bed and includes a set of four drawers and an under-counter hanging closet that supports a counter-top which also serves as a desk.
The kitchen in the ModHaus includes a two-burner cooktop, under-counter refrigerator, microwave, dishwasher, sink, granite counter tops, high-grade cabinetry with soft close doors and a breakfast bar. The bathroom maximizes space and function offering top-of-the-line glass showers and Kohler fixtures.
Other details include track lighting to properly light artwork, hardwood floors, wiring for cable and internet, and optional fireplace or air conditioner.
As with all Recreational Park Trailers, ModHaus is 400 square feet at 10'6"' wide x 38' feet long and can accommodate an additional 44 linear feet of outside deck. Wheelhaus cabins are literally built on wheels and can be delivered from coast-to-coast.
About Wheelhaus:
Wheelhaus designs and builds Park Model Homes with the highest standards of sustainable building and innovative design. Wheelhaus cabins are a blend of rustic and modern; combining the durability and quality craftsmanship of a log cabin with a modern focus on energy efficiency, innovative design, progressive space management, and top of the line building materials. Wheelhaus cabins exceed the requirements for the Gold standard with the U.S. Green Building Council. Wheelhaus offers several different designs with visually descriptive names like Wedge, Railcar, Caboose and ModHaus at base prices from $82,000 to $96,500 with delivery available from coast-to-coast. See all of the designs and floorplans at http://www.wheelhaus.com.