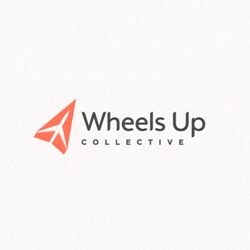 "Having the right mindset about content – that the point of it is to dive into sales – will help marketers balance their long to-do lists and short timelines to consistently churn out high-quality content that helps the company grow." - Amy Winner, Co-Founder of Wheels Up Collective
NEWARK, N.J. (PRWEB) March 16, 2022
Wheels Up Collective, a boutique marketing and strategy agency that specializes in tech startups, launched "The Complete Guide to Content Marketing for Startups". Written by a team of seasoned marketers, this ebook shares a step-by-step process and structured framework to help startups build a content strategy that drives revenue.
Building a comprehensive content strategy can be daunting and is often the most expensive part of a marketing budget. Considering everything that goes into content assets – writing, editing, design, and distribution – there are many moving pieces that require time and money to create. To ensure that this investment is worth the effort, startups need to hone their content strategy in a way that aligns with supporting the sales process.
"After spending decades in marketing, our team has been able to build a blueprint for creating content that drives real and intentional results," said Amy Winner, co-founder of Wheels Up Collective. "The Complete Guide to Content Marketing for Startups' is our proven method for determining what content is right to nurture prospects through the buyer's journey and deliver qualified leads to sellers, close deals and drive company growth."
Intentional content creation is especially important for most tech startups because they are typically introducing a new solution to the market. This requires considerable consumer education. By providing valuable information during the sales process through content, prospects will be better informed and come to the sales conversation with trust, rapport, and credibility already established. However, startup marketing teams often face challenges because of limited resources and conflicting priorities.
"Tackling content can be overwhelming, but we don't want startups marketing teams to be paralyzed by it. By understanding how the pieces fit together, you can always find ways to adapt what you are already doing to a more intentional content strategy framework," said Winner. "Having the right mindset about content – that the point of it is to dive into sales – will help marketers balance their long to-do lists and short timelines to consistently churn out high-quality content that helps the company grow."
"The Complete Guide to Content Marketing for Startups" comes with downloadable templates and easy-to-navigate timelines to guide marketers through the process. The eBook also gives guidance on how to build a content strategy from scratch, or improve an existing plan.
About Wheels Up
Wheels Up Collective is a full-service, boutique marketing and strategy agency specializing in helping small and medium enterprise tech companies and startups grow. Wheels Up's team of exclusively senior startup marketers offers on-demand bandwidth to companies that need to add demand generation, content, creative, PR, SEM, and web services capacity to their marketing efforts. For more information or to work with Wheels Up Collective, please visit https://www.wheelsupcollective.com/
Media Contact
Elise Oras, Wheels Up Collective, 610.724.5172, elise@wheelsupcollective.com