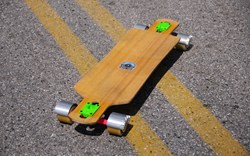 "Wheel Shields are brilliant. Hands down the biggest innovation in longboarding." - Robert Thomson, Guinness World Record-Holder for Longest Distance on a Skateboard
College Park, MD (PRWEB) August 05, 2013
Chase Kaczmarek, 21-year old entrepreneur from The University of Maryland, has launched a crowdfunding campaign on Kickstarter.com to fund production of Wheel Shields, his highly anticipated longboard skateboarding accessory. Wheel Shields are endorsed by two Guinness World Record-Holding skaters, have over 70,000 "likes" on Facebook, and have been featured in major publications like The Washington Post. Chase's company, Shield Boards LLC, seeks to raise $25,000 by September 4th in order to purchase the die cast mold that is needed for mass production.
Chase Kaczmarek, the inventor of Wheel Shields, is on a mission to improve safety for skateboarders worldwide. Last summer, Chase had a terrible longboarding accident caused by a common safety problem called "wheel bite", which occurs during a hard turn when the bottom of the board comes in contact with the wheel. This causes the wheel to stop rotating and throws the rider to the ground. Inspired by his injury, Chase began brainstorming ways of eliminating "wheel bite".
Kaczmarek's patented solution is called Wheel Shields. By creating a physical barrier around each wheel, Wheel Shields eliminate any possibility of "wheel bite". Instead of the board coming in contact with the wheel, it is stopped by the Wheel Shield, allowing the wheel to rotate freely.
Wheel Shields also act similar to a mudflap on a bike, protecting riders from the splash that comes off wheels when riding over puddles or wet surfaces. Wheel Shields even allow riders to stand directly on top of their wheels, opening up all sorts of new trick possibilities. Many beginner skaters experience problems accidentally stepping on their wheels, but Wheel Shields solve this problem.
"Wheel Shields are brilliant," said Robert Thomson, Guinness World Record-Holder for Longest Distance on a Skateboard. "Hands down the biggest innovation in longboarding. I wish I had Wheel Shields when I skated around the world. Wheel Shields have changed the longboarding transportation paradigm forever. They are an elegant solution to a frustrating problem."
Kaczmarek is a student at the University of Maryland, where he has won several business competitions for his startup, Wheel Shields. He was awarded first place in UMD's Pitch Dingman Competition and its Business Model Challenge. Wheel Shields was also voted "coolest booth" at the Cupid's Cup Business & Innovation Showcase sponsored by Kevin Plank '96, Founder and CEO of Under Armour.
The Wheel Shields Kickstarter campaign can be found here and offers rewards including sets of Wheel Shields, stickers, shirts, 3D printed custom Wheel Shields, and even Skype/phone calls with the inventor.
More information can be found at WheelShields.com.