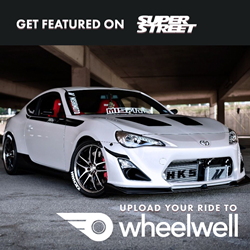 Wheelwell member garages are far more detailed than your average social media account, so we thought it would be the ideal place to find the next feature car to grace the pages of Super Street!
SAN FRANCISCO (PRWEB) June 05, 2019
Super Street magazine, the reigning king of aftermarket automotive tuning culture, is teaming up with Wheelwell, the #1 social marketplace for the automotive enthusiast. The partnership will allow the editors at Super Street to search and select the perfect build from Wheelwell member garages to support upcoming feature stories.
The Vehicle Feature Program was launched on May 16, 2019 and Super Street's editors have already begun the search for the next amazing build that will feature prominently in both the print and online versions of Super Street. The selected winner will receive a full professional photoshoot and in-depth article focusing on how their build came to be and what parts were used. The first winner will be announced on May 31.
"The site is easy to use and has really caught on with enthusiasts worldwide who are eager to show off their hard work. And because it's far more detailed than your average social media account, we thought it would be the ideal place to find the next feature car to grace the pages of Super Street!" said Matthew Rodriguez, editor of Super Street.
Wheelwell connects publishers with owners of inspiring vehicle mods
Until now, whenever editors of top car magazines and websites want to feature a specific car modification or particular build, they either had to depend on submissions from readers or were forced to scour the internet for potential candidates — a time-consuming process that rarely yielded the ideal match.
By providing access to its highly active and enthusiastic members, who painstakingly document their build, Wheelwell has made the search much easier via revolutionary artificial intelligence (AI) and advanced data analytics. At the same time, Wheelwell's growing social community of automotive enthusiasts have found the ultimate way to show off their builds to the largest audience possible.
"We've built a community of over a million unique and highly engaged members who love to showcase their builds," said Jonathan Mill, Wheelwell's director of marketing, who developed the program with Super Street after seeing how consumer automotive magazines struggled to connect with the owners of modded cars and trucks. "They are proudly showcasing their vehicles and sharing their sources for the best aftermarket parts for their builds, how-to build tips, and track videos — and getting thousands of followers along the way. Super Street's enthusiasm for what we are doing is exciting — we are confident they will get only the most detailed builds hand-delivered to their editors."
There are hundreds of active vehicle-specific member communities on Wheelwell, providing publishers with direct access to some of the most innovative and creative builds. Through the partnership, members can directly submit to Super Street via http://www.wheelwell.com/superstreet.
Wheelwell CEO Peter J. Nielsen added, "Wheelwell is only beginning to showcase the possibilities of connecting automotive enthusiasts with media, parts manufacturers, and professional builders. Our unique visual platform is not only a place to show off your ride but to find inspiration for your next part for your vehicle. It has also enabled some great connections between our members that have led to some really exciting builds, which will be revealed at SEMA this year."
About Super Street
Part of the Motor Trend network, Super Street brings you the best vehicle builds, features, event coverage, technical info and news each and every month in print, daily on our website — and almost hourly on their social media pages. For more information, visit superstreetonline.com.
About Wheelwell
Wheelwell is #1 social marketplace for the automotive enthusiast. Venture-backed and headquartered in San Francisco, the Wheelwell team consists of former employees of Apple, eBay, Nextdoor, Twitter, AutoAnything, MotorTrend, and Volvo — all united on a mission to use the power of community to help car enthusiasts easily find and buy the very best products for their vehicles. For more information, visit wheelwell.com.