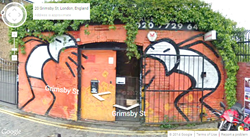 (PRWEB UK) 29 July 2014
Graffiti and street art have been adorning city walls for generations; examples have been found, for instance, on the walls of the ancient city of Pompeii. From the late 1960s onward, however, street artists began to use their talents to make subversive political statements or simply to deface public buildings with slogans or offensive comments. Viewed as an act of vandalism, street art, graffiti and its perpetrators were viewed at best as a public nuisance and at worst as criminal.
In the late twentieth and early twenty-first centuries, public perceptions of street art began to change for the better. A new breed of street artists, including the UK's Banksy and Stik and Belgian ROA, has brought respectability to the scene. Far from the amateur daubings of a disaffected youth, today's best street art displays true artistic creativity and skill often purveying its message through dark humour. Consequently, many of these paintings have come to be regarded as modern masterpieces.
Whilst London attracts more than sixteen million holidaying visitors each year courtesy of its many attractions, parks, historic buildings and, of course, the Royal Family, the capital's flourishing street art scene is gaining recognition as a London attraction in its own right. Focused around Shoreditch in East London, the district's streets and buildings have provided canvases for talented street artists from around the world.
Visitors to Shoreditch can find some of London's best-known works of street art here. The Crane, by Ghent-born artist ROA has become famous. Painted in 2009 on the side of an Indian restaurant in Hanbury Street, this stunning depiction of the bird typifies ROA's preference for detailed large-scale black and white paintings of animals and birds.
Stik's street art is characterised by his distinctive cartoon stick figures, and an excellent example -'Angry' - can be found adorning a gated wall at the end of Grimsby Street. Two of Stik's signature figures, one each side of the gate, are depicted as screaming or shouting, their eyes closed in rage, seemingly at whoever emerges from the gate.
Beneath the railway lines of London's Waterloo Station, Leake Street has become an informal 'gallery' for many of the best of London's street artists since Banksy himself invited thirty-nine of them to –legally- decorate the walls of this tunnel-like street in 2008. The result is an ever-changing and vividly-coloured display of high-quality urban graffiti art and an unmissable spot for visitors who appreciate it.
To help visitors on a city break or holiday in London to discover the whereabouts of some of these modern urban masterpieces, leading vacation home rentals website AlphaHolidayLettings.com have published an innovative 360° interactive guide to London street art on their website. Using Google's Street View technology, those interested in London's street art can explore and admire each of these stunning and unique examples in comfort from their laptop or PC.
About Alpha Holiday Lettings
Alpha Holiday Lettings has rapidly established itself as one of the top holiday rentals portal sites in Europe and offers self-catering apartments, cottages and holiday villas in Spain, England, France, Portugal, Italy, Cyprus, Turkey and other destinations around the world. The majority of the properties listed on Alpha Holiday Lettings are privately owned and are booked directly with holiday home owners. For more information, visit http://www.alphaholidaylettings.com.