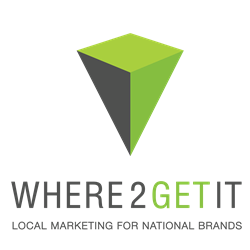 We are excited to evolve our partnership with Factual and other data publishers in order to provide the most effective, scalable, and manageable local search solution for National and International Brands
Anaheim, CA (PRWEB) July 24, 2014
Where2GetIt (where2getit.com), a market leader in location-based digital marketing offering solutions to more than 500 national brands, today announced it is now a Trusted Data Contributor (TDC) Partner of Factual-a real-time global data aggregator ensuring high quality location data.
Factual's Trusted Data Contributor Program was launched on July 24th, 2014, advancing their efforts in ensuring high quality location data both nationally and internationally. Where2GetIt as a direct source of location data for some of Forbes top 500 national brands, is excited to partake in the TDC Program as one of the limited number of partners trusted to provide high quality data.
Factual calls for business and brands to submit their data to them via a TDC contributor, like Where2GetIt. This allows Factual to streamline their workflow and create an optimal process for businesses and brands alike. Factual's digital reach covers thousands of developers and large properties such as Bing and Yelp. Additional benefits of distributing data using Factual include; a high trust score among search engines and excellent addition to a citation building strategy. Factual will continue to focus on their core goal, data, leaving business listings management to digital entities like Where2GetIt.
Further, Where2GetIt is one of a handful of partners who will manage data at a global scale for Factual. After 17 years Where2GetIt continues to its commitment of maintaining consistency, accuracy, and current NAP data points for their Brands. Of the partnership, Founder and CEO, Manish Patel states, "We are excited to evolve our partnership with Factual and other data publishers in order to provide the most effective, scalable, and manageable local search solution for National and International Brands."
About Where2GetIt
Where2GetIt was founded by CEO Manish Patel in 1997 and has since grown into an industry-leading provider of location-based digital marketing solutions powering more than 500 brands. Serving more than 4,500,000 brick and mortar locations, Where2GetIt has channel strength that reaches millions of consumers around the world. Patel has lead Where2GetIt in developing local marketing solutions that include scalable Local SEO, local advertising, mobile-local technologies, local-social marketing tools, and most recently the Brandify Platform (http://www.Brandify.com). For more information, visit http://www.where2getit.com.
About Factual
Factual is a data company that helps make sense of what's happening in the physical world, enabling developers, publishers, and advertisers to build more relevant and personalized mobile experiences using the context of location. Factual's real-time data stack builds and maintains data on a global scale, with Factual's core Global Places data covering over 65 million local businesses and points of interest in 50 countries. Factual's Geopulse products, built on top of its Global Places data, provide industry leading real-time location targeting and location-based audience capabilities. For more information, visit http://www.factual.com.