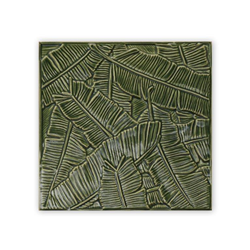 PORTLAND, Ore. (PRWEB) June 25, 2019
ANN SACKS, a leading designer, manufacturer, and distributor of fine tile and stone, introduced Banana Leaf to its new Flash Collection series. Taking its place within the MADE by ANN SACKS design portfolio, the Flash Collection is an ever-changing, nimble new merchandising approach that will feature distinctive tile designs and statement-making glazes all handcrafted by the artisans at its Portland facility.
ANN SACKS built its brand from a small import business into a force within the industry. Keeping a steady eye on emerging trends and identifying when interesting and compelling shifts occur are important to staying on the cutting edge of design. This requires a creative and tenacious team approach and the ability to elevate a concept swiftly into viable products that address today's tastes and yet retain a timelessness that make it a savvy interiors choice for years to come. The new stand-alone Banana Leaf design was created specifically with these principles in mind. Three new glazes were also developed for the collection by ANN SACKS in the colors of Vert (shown), Basil and Dusty Rose.
"From time to time certain colors or patterns imprint themselves, that speaks to the moment but also have real staying power," explained DeeDee Gundberg, Director, Product Development & Design at ANN SACKS. "Our new Flash Banana Leaf tile and colorways are a great example of this. Developing a collection can take a year or more to complete, but a singular pattern that is exciting or a color that is garnering a lot of attention by designers logistically goes much faster allowing ANN SACKS to bring it quicker to the marketplace."
Banana Leaf is an artful 8"x8" stoneware tile that is a visual representation of ANN SACKS artisans' remarkable capabilities and showcase the time-honored skills that are behind all the MADE by ANN SACKS designs and glazes. Carved surfaces are meticulously executed and exhibit exceptional three-dimensional depth. The hotter firing used in stoneware tilemaking allows the interactive glazes to produce a lustrous finished surface and creates a rich variance of color that pools and breaks over raised and recessed relief patterns.
ANN SACKS stoneware designs are made using a multi-step process that truly marries science with craft. It begins with ANN SACKS' product development team meeting with the Master Carver to explain how they envision the tile. He then carves a few sample patterns for their review. Once the pattern is selected, a wax mold is made to better gauge dimension and depth and the prototype is cast into a workable rubber mold. The clay, which comes from Portland, is hand-pressed into the mold, then hand-trimmed before firing. When completed, the tile is hand-sprayed with ANN SACKS' signature artisan glazes – a deft process that takes a skilled hand – and fired a second time to allow the glazes to mature and seal.
Banana Leaf is suitable for all indoor wall applications. It is not recommended for outdoor climates that experience freeze/thaw temperatures. Opaque colors can be used for shower walls; however, translucent and crackle glazes are not suggested for wet areas as the glaze may discolor when wet.
"The Flash Collection gives designers and consumers another way to express themselves in their homes and projects," said Gundberg. "Trending without being too trendy and bringing a fresh perspective to interiors are important in today's fast-paced world and essential to ANN SACKS opening up a vast range of options – and possibilities – to the design community we serve."
About MADE by ANN SACKS
For over 30 years, the ANN SACKS factory has produced a remarkable breadth of designs in its Portland, Ore. headquarters – from its prestigious guest designer series to the in-house collections that have become a staple within ANN SACKS. This colony of craftspeople from artisans and ceramicists to engineers and manufacturing technicians are an intricate part of the ANN SACKS family and the genius behind its collections that stand proud within the ANN SACKS repertoire. Rich in heritage, traditional in craft, and modern in scope, the designs are now being heralded under one overarching category: MADE by ANN SACKS.
About ANN SACKS
Founded in 1981, ANN SACKS has built its reputation with inspiring designs in tile, stone, plumbing, lighting and accessories. Based in Portland, Ore., the company, along with sister brands, KALLISTA plumbing and Robern mirrored cabinetry and vanities, is a division of the Kohler Co. Decorative Products Group, and a wholly owned subsidiary of Kohler Co.
About KOHLER®
Founded in 1873 and headquartered in Kohler, Wis., Kohler Co. is one of America's oldest and largest privately held companies. Kohler is a global leader in the manufacture of kitchen and bath products, engines and power generation systems, cabinetry, tile and home interiors, and international host to award-winning hospitality and world-class golf destinations.
For additional information regarding MADE by ANN SACKS collections or other ANN SACKS products, consumers can call toll-free 1-800-278-TILE or visit the ANN SACKS website at http://www.annsacks.com. To download low resolution images click here.