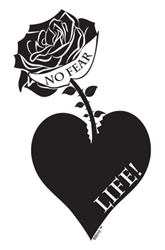 Life! Happens, reminding us that "it's not just about Life! happening to you; sometimes, it's about Life! happening through you."
Atlanta, GA (PRWEB) September 18, 2014
Dr. Suzaunna Clark, Psychologist, Life Coach and Licensed Professional Counselor, recognizes that 1- sometimes, inner beauty has to be seen to be believed and 2- that inner strengths have to be acknowledged in order to be used. Together, both lead to hearts that heal.
Healing Hearts shows the world how to do both.
Dr. Clark offers professional On-Line Counseling and Life Coaching using the Healing Hearts system, which provides professional guidance on dealing with everyday life issues and improving quality of life. Dr. Clark notes that she is willing to speak with individuals, families, and couples and that health insurance is not mandatory, and no medical records are kept. Additionally, with her non-traditional hourly appointment times, in-office visits are not necessary. http://bit.ly/1AQs3S7
Healing Hearts is also a system of patent-protected logo designs imprinted on various company products that helps participants maintain their focus. Dr. Clark is thrilled to present a new product line for Healing Hearts.
Products are available for purchase in the online store at: http://www.vcs-lifehappens.com
Healing Heart Moments Blog can be found at: https://suzaunna7.wordpress.com
Site Title: Healing Heart Moments Tagline: Where Life! Happens
About Healing Heart Moments and Products:
Healing Heart Life Coaching Moments philosophy: "Live long enough and it is understood that Life! happens. Hearts can be broken by something or someone. However, inner beauty shows how the miracles of inner healing always emerge from the wound of a broken heart. "
Dr. Clark states, "No matter what Life! does to you, there is a source in all of us that is both incorruptible and indestructible; once you understand how to utilize that source, you will access inner power that will never leave you."
Dr. Clark continues, "Healing Heart Moments" remind us that:
-We win some and we lose some; but never give up
-All good things don't come to an end; sometimes they evolve into something greater
-Healing is ALWAYS possible
-For the faithful, Healing Heart Moments are reminders that the kingdom of God is in you.
Dr. Clark states: "In the end, it's not just about Life! happening to you; it's about Life! happening through you."
To learn more about Suzaunna-Where Life! Happens and browse Healing Hearts products, visit the online store at: http://www.vcs-lifehappens.com
Suzanna-Where Life! Happens, LLC was created by Dr. Suzaunna Clark, Psychologist, in 2010. Dr. Clark holds a Doctorate of Education degree in Counseling Psychology; a Master's degree in Clinical Psychology; a Bachelor degree in Psychology and Human Relations; and an Associate of Science degree in Clinical Medicine. She is a military veteran with over 30 years of combined experience in clinical medicine, education, and counseling and is the author of 2 upcoming books: Suicide: Trauma, Healing and Prevention and Spiritual Journeys: Improving Your Quality of Life.
Dr. Clark has conducted seminars for major organizations, training mental health professionals in suicide prevention and self-injury prevention; performed guest lecturing at schools, universities, and medical settings on quality of life issues; conducted psychological intervention, seminars and mentoring at the Department of Juvenile Justice; and provided clinical medicine consultation to physicians, nurses, and Federal Organizations. She has also held positions of Director of the Organizational Consulting Office in the Department of Defense and Director of Military and Civilian Training and Education for the Air Force. She founded the company for the purpose of helping people know, remember, and understand how to heal from life's turbulence when Life! happens.