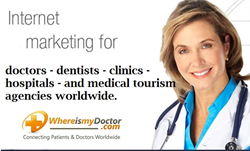 By connecting patients and doctors worldwide with our respective platform, we embolden positive health journeys across the world.
Chicago, IL (PRWEB) April 02, 2014
A leading online health portal announced Monday, it has reached over 1 million providers on its online medical network — and looks ahead in 2014 in a growing medical tourism industry. WhereismyDoctor.com has seen a 300 percent increase in patients over the last year alone, while reaching 100k monthly visitors to its website.
The portal delivers a comprehensive cross-platform for medical providers to attract, manage and monitor patients, while offering them access to over 30 branches of medicine. With more than 1 million providers, the company also holds one of the largest databases of medical information, and unique site features such as — Ask a Health Question, Treatments Guides, Health News and Tips, Rate Your Doctors, and Get a Free Quote from Doctors Worldwide.
WhereismyDoctor.com encompasses a network spanning over 58 countries. "Having a deeper understanding about healthcare can motivate a person to change their life," explains Brandie Umar, WhereismyDoctor.com Executive Director. "By connecting patients and doctors worldwide with our respective platform, we embolden positive health journeys across the world."
Integrated Marketing Tools for Medical Providers —
WhereismyDoctor.com offers its members a robust set of integrated tools — from a technologically advanced dashboard to view patient inquiries to an interactive, customizable profile that allows you complete control. Profiles incorporate full, data-rich, and comprehensive views of your provided treatments, locations, social links, and resumes of doctors, testimonials, photo and video galleries, clinical achievements and much more. The company assimilates result-driven marketing — by offering profile activity reports, patient relationship management tools, planning and forecasting, and strategic healthcare marketing services.
Becoming a member of WhereismyDoctor.com allows for effective communication and more active patient engagement, and an exclusive built-in management system to increase marketing growth.
Through the companies team of dedicated healthcare marketing experts, powered by an unyielding effort to exclude unnecessary practices and create definitive connections, the company is set out to help doctors, clinics, and hospitals across the globe become leaders in the healthcare industry — and reach the countless and admirable individuals who need affordable and accessible healthcare options.
Providers are turning to WhereismyDoctor.com to create rapidly, valuable medical brands and unique experiences for patients — all while mitigating substantial media investments in the medical tourism industry. "I am a Harvard-grad dermatologists specializing in dark skin and practicing in Kenya. Our staff is able to convert about 20 percent of the inquiries from WhereismyDoctor.com. I'm thrilled with the results," stated Dr. Pranav Pancholi.
Connecting Doctors and Patients Worldwide —
With over 28 medical branches offered at WhereismyDoctor.com, top treatments include Infertility (IVF), Plastic Surgery, Dental Care, Dermatology, and Gynecology (OBGYN). Patients can contact medical experts through the site, and obtain answers to their own personal health questions. The site also gives patients access to exceptional educational resources, including treatment guides and health news.
The company was founded in 2007 with two firm goals in hand — to help patients find the best health care possible; regardless of their location, and to help doctors concentrate on providing patients with the highest quality care possible. They hold true to their beliefs that patients should be able to access health care advice and treatments easily, and finding the right health care provider should come at no- cost to anyone in the world.
With more health information at their fingertips than ever before, WhereismyDoctor.com is tackling the disparities in the healthcare industry and providing objective, comprehensive information when selecting a doctor or hospital. In 2014, the company is looking to position itself as a trailblazer in delivering exceptional healthcare options, boosting brand awareness for its members and ultimately helping enhance patient satisfaction.
About WhereismyDoctor.com
Embraced as an innovative health care platform, WhereismyDoctor.com, is a leading interactive medical directory online that connects patients to health care providers worldwide. Improving Patients Health | Focus and determination by the WhereismyDoctor.com team provides patients access to superlative educational resources, including treatment guides and health news, and the highest quality of patient care. Marketing Your Healthcare Brand | Whereismydoctor.com delivers top-rate publicity for doctors, dentists, clinics and hospitals that is limited in the open market of medicine today. The company provides clients with a customizable online profile to boost visitors, an exclusive built-in management system to stay connected to patients, and profile activity reports to increase marketing growth.