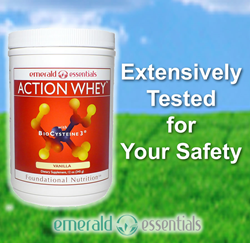 When it comes to protein supplementation, consumers and athletes alike have been duped into believing that quantity is more important than quality. This is never the case when it comes to nutrition and especially safety.
(PRWEB) May 13, 2014
After 4 years on the market, Action Whey™ with BioCysteine3® continues to prove itself as the superior source for the incredible healing and nourishing benefits of natural, fresh, grass-fed cows' whey protein from the cleanest sources possible.
Heavy metal tests concluded on April 28th, 2014 by Covance Laboratories give additional proof that Action Whey™ leads the market in whey protein quality and safety.
Test Results Attached: Protein Heavy Metal Toxin Test Results
While many people have been led to believe they are drinking a nutritious protein shake as a meal replacement or weight loss and muscle aid, the last thing they would expect is that it could contain alarming levels of heavy metal toxins.
In 2010, Consumer Reports brought this disturbing issue to light when they tested samples of 15 popular protein powders and shakes for lead, cadmium, arsenic and mercury.
At Emerald Essentials™, we insist on quality standards far beyond the standard protein industry. Action Whey™ with BioCysteine3® is voluntarily and randomly tested for both heavy metal toxins and radioactive components (a concern from ongoing Fukushima fallout) to ensure product quality and safety far above the average.
About Emerald Essentials: From pure, premium, whole food nutrition products to the most superior organic skincare, and with any new future products we offer, our goal is to conduct business with utmost integrity, and raise the bar on quality to outperform what else is out there on the market. To learn more, please visit: http://www.EmeraldEssentials.com