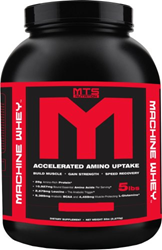 Whey Protein Concentrate is more intact than Whey Protein Isolate, meaning more of Nature's awesome powers that—although have not been shown to increase lean mass—have been shown to help with immune function
Ontario, Canada (PRWEB) July 21, 2014
Supplement Source, a Canada-based company that specializes in providing all types of supplements to the fitness community, recently announced its decision to add MTS Whey Protein to its inventory. MTS Whey Protein, which is available in five delicious flavors, is a high biological value protein matrix of a proprietary whey concentrate and whey isolate blend that offers heath, immune system, muscle building, and fat loss effects.
Whey protein is best for athletes looking to increase lean mass and lose fat, especially because it contains all of the essential amino acids. Created by a respected individual in the fitness industry, Marc Lobliner, Machine Whey contains no maltrodextrin, dextrose, high fructose corn syrup, mono an di-glycerides, added sugars, or trans fats. However, it does have 2,579 milligrams of leucine, the anabolic trigger; 4,459 milligrams of muscle protecting L-Glutamine; and 5,389 milligrams of BCAAs.
The Whey Protein Concentrate made specifically for Machine Whey utilizing MTS Nutrition's exact specifications contain high levels of growth factors and whey protein isolate. This supports immune function and keeps fat and carbs in check. Machine Whey's blend also includes occurring cholesterol to maintain cell walls, insulate nerve fibers, produce vitamin D, and maintain healthy hormone levels.
"Machine Whey uses 80 percent Whey Protein," noted an article available on Supplement Source. "Whey Protein Concentrate is more intact than Whey Protein Isolate, meaning more of Nature's awesome powers that—although have not been shown to increase lean mass—have been shown to help with immune function."
MTS Whey Protein is available in select flavors: Caramel Sutra, Chocolate, Cookies and Cream, Peanut Butter Fluff, and Vanilla. Through Supplement Source, it costs $74.95.
Individuals interested in learning more about Supplement Source and its wide range of supplements can visit the company's website for additional information. Visitors can also subscribe to Supplement Source's Facebook and Twitter accounts for additional updates from the company.
About Supplement Source:
In 1995, Daryl Ballentyne began selling sports supplements out of the trunk of his car to his fellow soldiers at CFB Gagetown, New Brunswick. SupplementSource.ca is the result of that humble beginning and its deep routed commitment to customer service reinforced with strong ties to the military, 911 responders and the fitness community. Since then, SupplementSource.ca has developed into a family business and is now the largest and most popular online retailer in Canada. For more information, please visit http://www.supplementsource.ca