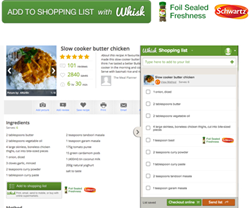 WhiskAds is being leveraged by international FMCG / CPG brands to place products in front of shoppers at the point of purchase.
Birmingham, UK (PRWEB UK) 23 April 2015
Whisk.com today announces the company's international expansion and the availability of its free, award-winning smart shopping list app in nine countries: UK, Australia, Canada, Mexico, Argentina, France, The Netherlands, Germany and Poland. Following demand from international cooks and grocery shoppers, Whisk has rolled out French (France and Québéc), Spanish (Mexico and Argentina), German and Dutch integrations with local Allrecipes web sites -- the world's largest digital food brand, which receives more than 1 billion annual visits to their 19 local recipe sites serving 24 countries in 12 languages.
Local editions of Whisk's free iPhone shopping app and Android shopping app have also been rolled out in six languages.
With the click of a button, Whisk turns any recipe into a digital shopping list that can be viewed on mobile devices -- giving users access to their lists wherever they are. Now home cooks around the world can access a vast and varied catalogue of user-rated recipes and easily create digital shopping lists that can be saved, shared, printed and accessed on mobile devices anywhere.
With this international and local language launch, Whisk's "Create a Smart Shopping List" button now appears alongside more than 300,000 recipes worldwide.
With this international expansion, Whisk also broadens its appeal in FMCG / CPG markets with the availability of WhiskAds, a shopper marketing and advertising platform that gives food manufacturers and brands new opportunities to place products in front of shoppers at the point of purchase.
WhiskAds' unique targeting capabilities allow brands to leverage popular recipe content with product placements integrated into the recipe, as well as within the shopping list. Brands are now able to participate in the consumer's entire journey -- from recipe search and meal planning to food shopping -- to get their products into shopper's carts.
These contextual ads give brands the opportunity to showcase branded products when an ingredient (e.g. mustard or black pepper) is listed in a recipe or when a product could be suitable as an accompaniment (e.g. aluminium foil or a wine pairing). Through data-driven optimisation and measurement, WhiskAds provides brands with insights into how products perform with different types of recipes.
Patricia Lee Smith, Vice President, Allrecipes International, said: "Nick Holzherr and the brilliant Whisk team have brought some truly innovative solutions to market and are a pleasure to work with. As the world's largest digital food brand, Allrecipes is pleased to partner with Whisk to provide home cooks with practical solutions for everyday meals, and to enable brands to engage with consumers throughout the path to purchase."
Following the launch, Whisk will integrate with online retailers, enabling shoppers to send recipe ingredients straight into online shopping carts. This online supermarket functionality is currently available to UK shoppers, who upload shopping lists to online grocery carts at Ocado, Tesco, ASDA and Waitrose.
Nick Holzherr, founder and CEO of Whisk, said: "The launch of Whisk in Canada, Australia, Mexico, Argentina, France, The Netherlands, Germany and Poland is a real milestone in our journey and marks our continued international expansion. We are thrilled that home cooks around the world will now easily convert recipes into accessible digital shopping lists that save time and are incredibly useful."
Holzherr continued: "In the coming months, we will continue to extend our international partnerships to enable shoppers to turn their shopping lists into online grocery baskets and get their groceries delivered to their door."
About Whisk
Whisk.com is a leading recipe finder and free shopping list app that makes the journey from online recipe inspiration and meal planning to real-life shopping a whole lot easier. Whisk works with recipe publishers to link shoppers to more than 300,000 recipes. Alongside these online recipes, Whisk seamlessly displays a "Create a Shopping List" button that allows people to quickly create a digital shopping list from any recipe.
WhiskAds is an advertising platform that makes the content from hundreds of thousands recipes connected and transactional. WhiskAds intelligently places relevant ads across the shopper's path to purchase, giving brands the ability to showcase branded products next to recipe ingredients. For more information on WhiskAds, please visit whisk.com/brands.
Whisk accolades include a Cisco British Innovation Gateway award, The Grocer's "Top New Talent" award and the PPA Digital "Newcomer of the Year" award. Whisk has been featured in leading publications including Wired, The Guardian, The Independent, The Telegraph, BBC, Internet Retailing, Food Manufacturer and The Next Web.
The Whisk app was recently featured as one of the "Best New Apps" in the Apple App Stores' Food and Drink category. Whisk's supermarket shopping list app is currently available for download on the Apple iTunes and Android App Stores. It is also available as a browser plug-in.
Whisk was launched in January 2013 and was founded by Nick Holzherr, who raised funding for the venture after pitching the business to Lord Sugar as a finalist on the 2012 BBC TV series The Apprentice. Whisk is headquartered in Birmingham, United Kingdom. For more information on Whisk, please visit https://whisk.com or become a fan on Facebook or Twitter.
High resolution screenshots of Whisk are available here.
About Allrecipes
Allrecipes, the world's largest digital food brand, receives more than 1 billion visits annually from family-focused women who connect and inspire one another through photos, reviews, videos and blog posts. Since its launch in 1997, the Seattle, US-based social site has served as a dynamic, indispensable resource for cooks of all skill levels seeking trusted recipes, entertaining ideas, everyday and holiday meal solutions and practical cooking tips. Allrecipes is a global, multi-platform brand with 19 web and mobile sites, 2 mobile apps, and 15 eBooks serving 24 countries in 12 languages. Allrecipes is part of Meredith Corporation, the leading media and marketing company serving American women. For additional information regarding Meredith, please visit http://www.meredith.com. For additional information regarding Allrecipes, please visit press.allrecipes.com.
For sales enquiries please contact:
Vickie Seymour-Perry
Business Development, Whisk
+44 (0)7517 288088
vickie(at)whisk(dot)com
Esmee Williams
Vice President, Consumer and Brand Strategy, Allrecipes
esmee(at)allrecipes(dot)com