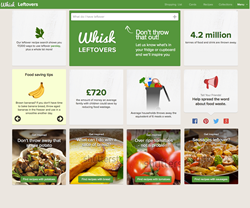 We hope Whisk Leftovers will help reduce food wastage in households, allowing users to be creative with their cooking while having a positive impact on the environment and their wallets.
San Francisco, CA & Birmingham, UK (PRWEB) December 09, 2014
Whisk.com, a free, smart shopping list tool that helps users organise, discover and enjoy great recipes, today announces the launch of Whisk Leftovers. Whisk's leftovers search engine sources more than 250,000 online recipes from leading publishers to inspire people with recipes that help turn leftover ingredients into great meals instead of landfill.
The award-winning startup built the leftover recipe search functionality in collaboration with Unilever Project Sunlight, which recently launched its #ClearAPlate campaign to raise awareness of the issues of food waste and food poverty. Unilever has supported Oxfam's work in the UK to provide more than two million meals to families in need, while highlighting the steps we can take to waste less food at home.
A third of the food that's grown and bought in the U.S. gets wasted and thrown away, according to the Environmental Protection Agency. Americans are, in other words, throwing out the equivalent of $165 billion in wasted food every year.
Whisk Leftovers is a powerful recipe search engine that is oriented towards meals that use highly perishable and frequently wasted food items like herbs, dairy, vegetables and eggs. People can simply enter leftover ingredients, such as 'chicken' + 'basil' + 'cream,' to see a range of recipe ideas like chicken stroganoff, risotto al verde and creamy chicken pesto pasta that use up items that might otherwise be thrown in the trash.
Founded by former The Apprentice candidate Nick Holzherr, the Whisk app simplifies the process of finding, shopping and cooking great meals. Whisk turns online recipes into shopping lists that can be viewed on mobile devices so users can tick off items as they shop. These smart shopping lists can also be printed to bring into the store, or emailed to family members for collaboration. UK users of Whisk can upload these grocery lists directly into online grocery carts; Whisk will be announcing additional international grocery partnerships in the coming months.
From its own analysis of users' purchases versus recipe ingredient amounts, the company identified the possible food wastage occurring and began creating a leftovers recipe site. Whisk went on to calculate the cost of this wasted food and as one example, found that parsley was one of the most wasted, as well as one of the most expensive items people buy. Parsley is often sold in bunches, but the average recipe calls for only a few ounces, resulting in a large portion of the greens going to waste. Whisk's recipe search engine includes more than 17,000 ways to cook with this valuable and versatile herb.
Whisk has created a collection of some of the web's most popular leftover recipes, which include banana bread, vegetable stew, spaghetti bolognese, chicken curry and herb stuffing.
Nick Holzherr, CEO and founder of Whisk, said "The sheer scale of ongoing food wastage is an urgent problem with the average family throwing away the equivalent of six meals a week. We hope Whisk Leftovers will help reduce food wastage in households, allowing users to be creative with their cooking while having a positive impact on the environment and their wallets."
For more information, please visit Whisk Leftovers: whisk.com/leftovers. Additional data on food wastage and useful hints, tips and tricks on what to do with leftover food can be found on Whisk's blog, The Mixing Bowl.
About Whisk
The web is the leading resource for home cooks and Whisk.com's vision is to make the journey from online recipe inspiration to real-life shopping much easier.
Since launching the company in 2013, Whisk has partnered with leading recipe publishers, including FoodNetwork, Woman & Home, The Telegraph and Allrecipes, the world's largest digital food brand, which receives more than 1 billion annual visits across their 19 localized recipe sites.
Whisk has integrated with UK supermarkets Ocado, Tesco, ASDA and Waitrose, enabling users to send recipe ingredients straight to online grocery baskets.
Whisk was featured recently as one of the "Best New Apps" in the Apple App Store's food and drink category. The startup has been awarded a Cisco British Innovation Gateway award, The Drum's "One to Watch" honours, The Grocer's "Top New Talent" award and the PPA Digital "Newcomer of the Year" award.
Whisk is also available as an iPhone and Android app, as well as available as a browser plug-in. For more information, please visit http://www.whisk.com.
About Unilever
Unilever is one of the world's leading suppliers of Food, Home and Personal Care products with sales in over 190 countries.
By clearing a plate, cutting down your food waste and using the hashtag #ClearAPlate to share a picture online, you'll be supporting the work to alleviate food poverty. You can also donate money or time: projectsunlight.co.uk or oxfam.org.uk/clearaplate.