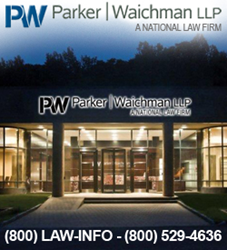 New York, NY (PRWEB) February 28, 2014
Parker Waichman LLP, a national law firm dedicated to protecting the rights of whistleblowers who have reported, or seek to report, employers engaged in illegal activities, announces that a Lidoderm settlement was recently announced in the amount of $193 million.
Three whistleblowers provided information to federal prosecutors regarding Endo Pharmaceuticals' alleged unapproved marketing of the Lidoderm Patch, which led to the whistleblower cases. (United States ex rel. Ryan v. Endo Pharmaceuticals Inc., Civil Action No. 05-cv-3450; United States ex rel. Weathersby, et al. v. Endo Pharmaceuticals Inc., et al, Civil Action No. 10-cv-2039; and United States ex rel. Dhillon v. Endo Pharmaceuticals, Civil Action No. 11-cv-7767. All are docketed in the Eastern District of Pennsylvania)
The whistleblowers were a New York pharmaceutical sales representative and a doctor and sales representative in Pennsylvania. Their information led to a $193 million settlement. The whistleblowers will receive a portion of the settlement under the False Claims Act; although the amount is as-of-yet undetermined, whistleblowers typically receive about 15-25 percent of the civil charges, according to the February 21, 2014 article in TimesUnion. In this case, the civil portion totals $173 million, which will also be paid to United States state and federal authorities. The remaining $20 million will cover criminal penalties and forfeitures in a deferred prosecution agreement, according to a February 21, 2014 Reuters report.
The U.S. Food and Drug Administration (FDA) approved the Lidoderm Patch from 2002 to 2006, for the relief of pain associated with a shingles complication known as post-herpetic neuralgia (PHN), court documents filed by the U.S. Attorney's office, indicate, according to the TimesUnion(Albany). The whistleblower lawsuits alleged that Endo intended for the Lidoderm Patch to be sold for other uses that were not approved by the agency.
These uses, according to an American News Report, published on February 21, 2014, included lower back pain, diabetic neuropathy, and carpel tunnel syndrome. The marketing for these uses occurred between 1999 and 2007.
In 2005, the FDA sent Endo a warning letter indicating that Endo's marketing materials were false or misleading. Despite this, Endo continued providing its sales representatives with tips and techniques for use in discussing Lidoderm's off-label uses with physicians, according to the U.S. attorney's office, the TimesUnion (Albany) reported.
According to Grant C. Jaquith, the first assistant U.S. attorney in the Justice Department's Albany office who investigated Endo's marketing practices, the drug maker misbranded the Lidoderm Patch as the labeling contained insufficient information for uses that, while intended, were not approved, the TimesUnion (Albany) wrote.
"Illegally marketing drugs off-label puts patient lives at risk and rips off New York taxpayers and the state by defrauding Medicaid and other programs," said New York Attorney General Eric T. Schneiderman, whose office led a team of states in the Lidoderm Patch investigation and the settlement with Endo.
Parker Waichman LLP supports the whistleblowers' efforts to report illegal activities that cause harm to citizens and also seek to protect whistleblowers from retaliation by their employers. The firm continues to offer free legal evaluations to those individuals who believe their companies may be involved in wrongdoings. If you believe that your company is involved in illegal activities and fear losing your job or having your reputation adversely impacted for reporting these activities, or for more information, please visit the firm's Pharmaceutical Whistleblower page at yourlawyer.com or call 1-800-LAW-INFO (1-800-529-4636).
Contact:
Parker Waichman LLP
Gary Falkowitz
Managing Attorney
1+ (800) LAW-INFO
1+ (800) 529-4636
http://www.yourlawyer.com