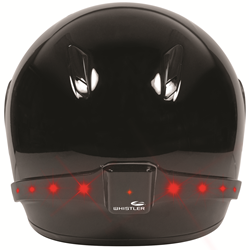 The MotoGlo is literally head and shoulders above traditional motorcycle lighting. The increased rider visibility to following drivers improves everyone's safety
Bentonville, AR (PRWEB) July 14, 2014
The Whistler Group, Inc., a leading industry supplier of state-of-the-art electronics introduces their new Helmet Safety Light, the MotoGlo. The sleek, low profile receiver easily attaches to any ¾ or full face helmet to increase rider visibility while on the road.
The Whistler MotoGlo was exclusively designed with rider safety in mind. It features helmet height running, braking, and turn signal LED lighting that provides increased rider visibility to following drivers. The MotoGlo offers digital wireless communication that can be paired with and support multiple helmets. It provides 12 hours of sustainability on one single charge and can be conveniently re-charged in less than 1 hour using the included USB cable.
The improved visibility aspect of the MotoGlo makes this product an essential for all motorcyclists and passengers. "The MotoGlo is literally head and shoulders above traditional motorcycle lighting. The increased rider visibility to following drivers improves everyone's safety," said Steve Sanders, Product Development Manager at Whistler.
Whistler will begin shipping the MotoGlo in late July 2014. The MSRP will be $139.95.
About Whistler
Whistler is a leader in international state-of- the-art electronics and automotive laser/radar detection systems. Throughout the years, Whistler has innovated and patented important product advances, resulting in first-to-market accomplishments and top performance rankings. Our relentless pursuit of innovative design and technology ensures a high-performance, user-friendly, and value priced product. We are dedicated to providing technology that improves everyday life. To learn more about The Whistler Group, Inc., please visit the Whistler website at http://www.whistlergroup.com. Like Us on Facebook @ https://www.facebook.com/WhistlerGroup and follow us on Twitter @ https://twitter.com/whistlergroup.