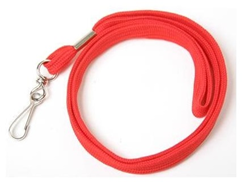 The best whistle straps on the market.
Los Angeles, CA (PRWEB) March 17, 2015
When danger approaches or a lifeguard has to caution the patrons, it is important for the guard to be ready at a moment's notice. For this reason, many lifeguards carry whistles with them, as whistles can be heard easily with a crisp and loud sound. Since whistles are small, it can be easy for a lifeguard to lose it while on duty making whistle straps and lanyards extremely helpful. Now Lifeguard Master has a new line of whistle straps and lanyards making it easy and convenient for a lifeguard to carry a whistle with them while on duty.
Lifeguard Master now offers a full line of whistle straps and lanyards, making it easy for lifeguards to carry whistles with them at all times. Now with five different straps or lanyards in the line, lifeguards, coaches, and athletes have quick and easy access to a whistle around their neck.
The Whistle Strap Braided Lanyard is made with 3/8 inch cotton lanyard that is comfortable and durable. Lifeguards and whistle users alike will be able to reach for their whistle easily and know where it is at throughout their shift. This quality braided cotton whistle strap comes with a whistle clip to secure any whistle. Available in red, blue, and black, this whistle strap is perfect for anyone needing to reach for a whistle during an emergency.
The Break-A-Way Lanyard is perfect for lifeguards who may need to have a device that can unhook itself from someone's neck in case it is caught on something. Especially helpful for those who are serving where twigs or rocks may snag a lanyard, lifeguards can swim into the water without worrying about their lanyard being caught on debris causing them to be held down in the water. This can also be useful if a panicking swimmer grabs a lifeguard and tugs on a lifeguard's lanyard. In this case, the lanyard would break making both the lifeguard and victim safe. Available in black, red, and royal blue, this break-a-way lanyard has a whistle clip at the end making it easy to attach to any whistle.
One of the best-selling braided whistle straps, made from braided cotton, the Economy Whistle Strap is available in black and red and is ideal for bulk orders. This is perfect when buying whistle straps in large quantities at a good price. Featuring a whistle clip at the end, the piece is easy to clip a whistle or other keys to it so a lifeguard can use the device when needed.
The Cotton Whistle Lanyard is made from 3/8 inch cotton and comes with a whistle clip. These woven cotton strands are extremely comfortable and allows someone to know where their whistle is at all times. A slightly thicker strap than others, this cotton strap is smooth and subtle against the skin making it perfect for all-day wear.
Vince from La Jolla, California says, "So my friend and I dressed as lifeguards at a hotel rooftop party this weekend. The outfits were a huge success. Everyone was loving them. While on the tenth floor balcony to our room, my friend dropped the whistle over the edge. He then went down and retrieved it blowing the whistle signaling it was intact. Three cheers to [Lifeguard Master's] indestructible whistles." To view a video of this whistle, please click on: lifeguard whistle compared to FOX 40 whistle video.
Lifeguard Master also offers a full line of FOX 40 whistle and lifeguard whistles that attach easily to any of the whistle straps or lanyards also available through Lifeguard Master.
Whether looking for a whistle and lanyard combination or an affordable lanyard for an entire class or group of lifeguards, Lifeguard Master has different options for style and pricing. Lifeguard Master takes pride in the products offered on the site, making them the go-to destination for amazing products and excellent customer service.
Lifeguard Master has been in the emergency and life saving industry for many years. Sammy, the owner and founder of Lifeguard Master has been a lifeguard himself for 7 years. He knows the importance of having all the equipment readily available for a first responder, and through the years Lifeguard Master has become a robust lifeguard supply and lifeguard store company, accommodating the anticipating needs of first responders around the country and around the world. Lifeguard Masters determination to excellence and rescue safety has quickly made it a leader in its industry. For more information, please give us a call, send us an e-mail or visit our website. Also to stay updated with the latest news in emergency supplies, please visit our forum where rescue professionals from around the country and world stay connect, and post the latest emergency news at LifeguardsOnline.com.
Sammy
Lifeguard Master
(714) 605-3090
http://www.LifeguardMaster.com