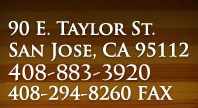 San Jose, CA (PRWEB) December 11, 2013
At Japantown Dental, a lot can happen in a day. With their new implant procedure, called Teeth-in-a-day, patients are now able to get implants and leave in the same day.
Japantown Dental is excited about this new procedure and what it means for their patients. Whether patients are missing just one tooth or all their teeth, they can now replace those teeth with implants. New technology now allows the dental practice to place implants where they were previously unable to. While this on its own is exciting, the new procedure takes it even one step further. Following the placement of implants, patients will leave the office that day with a fixed prosthesis that resembles natural teeth. No more missing teeth or dentures.
To start, patients will undergo an initial consultation with the team periodontist, and a CT scan will be taken. The scan allows the dentists to plan the placement of the implants using computer-guided technology. Japantown Dental's team surgeon will place the implants, and either Dr. Stephani Ueno or Dr. Jerrold Hiura will replace the missing teeth after surgery.
Japantown Dental is confident that the new Teeth-in-a-day procedure will benefit many of their current and future patients. The new procedure gives patients added confidence, without dragging out the process. For more information about Japantown Dental and their new implant procedure, visit their website at http://www.japantowndental.com/.
About the company:
At Japantown Dental Group, they provide generations of happy, healthy smiles! Drs. Hiura and Nguyen work with patients to create a personalized treatment plan to fit their specific needs and desires. They believe that a patient's visit should be as pleasant and comfortable as possible and provide individual LCD TVs at each chair for patients to watch movies during their visit. Japantown Dental offers general dentistry services, including white fillings, veneers and emergency dental services, such as a broken tooth or bitten tongue. They are committed to providing their patients with the care and treatment that they deserve. Please visit their website for more information at http://www.japantowndental.com/.