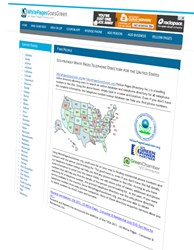 Online directories such as WhitePagesGoesGreen.org, as opposed to paper-based phone books, help reduce man's destructive footprint on the environment
(PRWEB) November 05, 2013
YellowPagesGoesGreen.org, a business directory website at the forefront of the environmentally-conscious Green movement, is proud to announce the expansion of their White Pages services into Utah, giving residents access to a vast residential telephone directory search database.
"Using a powerful online search option, YellowPagesGoesGreen.org users located in Utah can effortlessly find services with our Yellow Pages while also reaching out to people that matter most with our new White Pages," said President Michael Keegan.
YellowPagesGoesGreen.org is a cutting-edge website and alternative to print directories that delivers over 28.5 million up-to-date listings of businesses throughout the United States. In addition, YellowPagesGoesGreen.org now brings "people data" with its combination of WhitePagesGoesGreen.org, adding over 250,000,000 million residential telephone numbers in the United States.
Aside from the convenience of WhitePagesGoesGreen.org, it serves another purpose- saving the Earth.
"Many of us recycle and most of us are also aware that the climate is changing due to human activities. Just one person recycling their printed yellow pages, magazines, plastic, glass, and metal for one year is enough to save 471 pounds of carbon dioxide from going into the atmosphere. Online directories such as WhitePagesGoesGreen.org, as opposed to paper-based phone books, help reduce man's destructive footprint on the environment." Keegan said.
About Yellow Pages Directory Inc.,
YellowPagesGoesGreen.org and PaperlessPetition.org offer an environmentally-friendly Web-based alternative to paper telephone directories while providing a simple and convenient mechanism for customers to opt out from the receipt of printed yellow books. Both sites have been instrumental in promoting opt-out awareness across the United States over the past several years, and allowing users to reduce their own environmental footprints in the process. Yellow Pages Directory Inc. has also taken steps to reduce its own impact on the environment through the use of the most up-to-date and energy-efficient web-hosting services available.