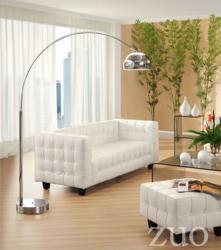 Always make sure to treat white sofas with an appropriate fabric protector - after all, the best way to keep white fabric from discoloring is to prevent stains from sinking in in the first place.
(PRWEB) July 06, 2013
HomeThangs.com – the Online Home Improvement Store has made their goal to deliver the right product to the consumer. With that in mind, shopping and home design tips, as well as special product selections are being introduced.
White can be a difficult color to pull off. It takes creativity and finesse to make white walls or cabinetry fresh and bright rather than blank. While white furniture can make a space look breezy and tropical or sophisticated and modern, white fabric can be very hard to keep clean. Still, with a little care and attention, white sofas or sectionals in particular can make a bold, beautiful statement in a living space. HomeThangs.com has released a guide to making this look work with a variety of living room styles.
1. Grown Up Living Room Set
In many ways, white is a very grown up choice for a living room set. After all, by virtue of being such a pain to keep clean, it isn't often a first choice for parents of young children or lots of shedding pets. By extension, that smooth, unblemished surface of a white sofa feels more than a little bit sophisticated. White might be a somewhat bland choice for the walls, but it's actually quite daring for a sofa or sectional, appearing not only visually crisp and bright, but also surprising the eye because it's a color that isn't often used.
2. Island Vibe
White sofas paired with dark stained teak wood, broad-bladed bamboo ceiling fans, and gauzy white floor-to-ceiling curtains scream Caribbean resort – hot lazy days looking out over crystal blue water. This is a simple look to get, too. A basic linen slipcover can brighten up an old sofa, bringing some of that sun-soaked feeling into the living room. High quality outdoor sofas also works surprisingly well for this – especially in a sun room – combining dark rattan wicker bodies with easily washable white sofa cushions that echo that island feel.
3. High Contrast And Modern Materials
Modern design highly values contrast, and so a basic go-to color palette often consists of black and white and often nothing else. The higher the contrast, the more modern the look, while more diverse colors create a more casual feel. White leather or leatherette paired with chrome is perhaps the most modern choice, with designs that are quite rectangular to emphasize the smooth, sharp lines characteristic of a modern aesthetic. Neutral wood tones and natural greens will soften the look to make it more casual, while a white on white or a highly contrasted black and white decor will look quite formal. Bold pops of bright, vibrant colors stand out against a white sofa, creating a vivid, inviting space.
4. Modern Classic
Many modern designs borrow from classic furniture forms. In fact, there are more than a few modern designers like PolArt that use old fashioned furniture shapes made with unusual materials (from leather to colorful poly-resin) to achieve an even more modern look. This works especially well in white because white fabric shows every detail. The ruffling, tufting, and buttons characteristic of a period style turn into a stunning modern statement piece with a surprisingly sculptural quality.
5. Choose A Material That's Easy To Clean
One of the most important steps in keeping a white sofa looking good it to make sure the surface material is easy to clean. For a breezy, tropical style, look for white sofas or sectionals made with a linen or canvas slipcover, or with cushion covers that are easily removed and machine washable. For a more modern style, look for a leather or leatherette that's easy to clean. Regardless of the material, make sure to use an appropriate fabric protector – after all, the best way to keep a white fabric from discoloring is to prevent stains from getting to the fabric in the first place.
6. Not Quite White
White sofas produce a clean, fresh look that's really like nothing else – they're bright and dazzling in a way that no other color is. That said, if kids, pets, or other family members pose a known danger to a bright white finish, it might be worth considering an alternative. Even just slightly off white canvas or gingham material can be much more forgiving, and very pale beige can stand in for an antique white, especially for a shabby chic decor with a lot of natural light. Where white shows every mark, even slight off whites will actually help hide them, but won't give quite the same dazzling finish.
To find out how to get some of these great looks, read the full article here.
HomeThangs.com is not only a home improvement superstore, it also provides expert design tips and a comprehensive shopping guide, taking the ideas from professional interior designers, and offering tips to the consumers on how to pick the products to best suit their needs.