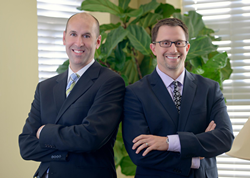 With a full mouth reconstruction, treatments can coincide and complete the final smile in less time.
MOORESVILLE, N.C. (PRWEB) May 30, 2019
White and Haines Advanced Dentistry founding dentists, Drs. Steven White and Brad Haines, urge new and existing patients to discover the value and benefits of personalized Mooresville, NC, full mouth reconstruction treatments. By combining multiple procedures into one comprehensive, customized smile plan, Drs. White and Haines can help patients attain their dental health and appearance goals efficiently and effectively.
Full mouth reconstructions are custom-generated and unique to each patient. In some cases, patients want to enhance their smiles by filling in missing teeth with fixed dental implants or straightening crooked or crowded teeth using leading edge orthodontics such as Invisalign®. In other cases, they may want a remedy to their temporomandibular joint (TMJ) disorders. Other services commonly utilized during full mouth reconstructions include gum disease therapy, porcelain veneers, and placement of dental crowns and bridges.
The patient advantage to working with a dentist in Mooresville, NC, on a full mouth reconstruction plan is twofold. First, the patient has one treatment plan to avoid any confusion and ensure specific outcomes are met. Oftentimes, the alternative is receiving multiple services from different clinicians using varying methods. With a full mouth reconstruction, treatments can coincide and complete the final smile in less time.
Secondly, patients can more easily pay for the treatments they need and understand the big picture of their care. Knowing each step in the full mouth reconstruction process allows for better budgeting. Receiving more efficient treatment will also save time and avoid unnecessary care. To help patients understand their financing options, Drs. White and Haines offer a variety of payment alternatives such as extended payment plans for services not covered by insurance.
Both dentists at Haines and White Advanced Dentistry are highly involved in their field, communities and local nonprofits. Passionate about incorporating the latest technologies and dental health advancements in their patients' treatment plans, they routinely attend conferences and related events to increase their knowledge of leading-edge, emerging standards. To this end, Dr. White and Dr. Haines have both served as mentors to encourage the up-and-coming generation of dental health professionals.
Individuals who wish to schedule a consultation to discuss full mouth reconstruction options are welcome to call White and Haines Advanced Dentistry at 704-896-9535. Those with suspected or diagnosed gum disease or other dental conditions are also urged to pick up the phone to get immediate, trusted treatment.
About the Dentists
White and Haines Advanced Dentistry is a general dental practice offering personalized dental care to patients in Cornelius, NC. Dr. Steven White offers more than 20 years of experience in general and cosmetic dentistry. He has served as a mentor at the Nash Institute for Dental Learning as well as an instructor with the Advanced Aesthetics Program. Dr. Brad Haines was named a Top 40 Dentist Under 40 in Incisal Edge Magazine and brings more than a decade of experience in general and cosmetic dentistry. Drs. White and Haines strive to understand each patient's unique set of goals to help them reach a healthy smile and they are members of the American Dental Association, Dental Organization for Conscious Sedation and Charlotte Dental Society, among many others. To learn more about Drs. White or Haines or the services they offer at their practice, please visit their website at http://www.drswhiteandhaines.com or call 704-896-9535 to schedule an appointment.