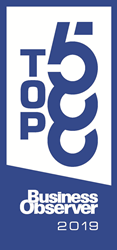 "It's an honor to be recognized as a leader in the community. We are thrilled to be on the list" - Sharon Bloodworth, CEO, CFP®
SARASOTA, Fla. (PRWEB) August 09, 2019
White Oaks Investment Management of Longboat Key has been recognized in the Business Observer's 2019 Top 500. The Top 500 is the most comprehensive list on the Gulf Coast by including companies in nine counties. The main list ranks the 500 largest companies by gross revenues for consistency and comparability.
On this year's list, which reflects 2018 fiscal year data, White Oaks Investment Management moved up 26 spots from the previous year's ranking.
"Every year we're scouting for companies, new and old, and it's always exciting to see who's new to the list and how veterans of the list have changed over the past couple years," says Kat Hughes, executive editor of the Business Observer. "Covering nine counties that each have thousands of companies, the Top 500 really has become a who's who for leading firms in the region."
About White Oaks Investment Management
White Oaks Wealth Advisors, Inc. and White Oaks Investment Management, Inc. are private, fee-only Wealth Management and Family Office firms within Minneapolis, MN and Longboat Key, FL that specialize in simplifying the complexities of wealth for upper net worth individuals. The firm employs a team with over 100 years of financial services experience in areas such as retirement planning, investment advice and management, family office services, estate planning, tax planning, stock option exercise, charitable gift planning, qualified plan distribution planning, and many other issues that individuals face in meeting and achieving their financial security goals.
About the Top 500
Each year the Business Observer spends seven months researching companies on the Gulf Coast to rank the top 500 companies from Tampa to Naples by their gross revenues. Revenues are mostly self-reported by the companies, and do not include pass-through revenues for industries such as real estate, advertising agencies, or professional employer organizations.
In addition to revenues for 2017 and 2018, the list provides other information on each company, including the number of full-time employees, the year founded or incorporated, the top executive and line of business.