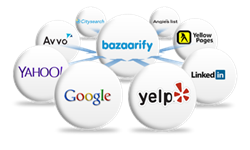 Ninety percent of consumers read online reviews before making a purchase. Bazaarify lets us aggregate all our reviews across multiple sites and display them all on one personalized website.
Columbus, OH (PRWEB) January 06, 2014
Bazaarify is a Business Reputation Management (BRM) solution that allows businesses to more easily listen to customers, address customer feedback and promote positive reviews. Whiteboard Marketing is excited to be a certified reseller for Bazaarify, making it easier for small businesses to monitor and grow their online reviews.
"We saw a demand for business reputation management and it was a natural fit with our current digital marketing suite," explains Sean White, Whiteboard Marketing CEO.
How does it work? Online reviews are collected from sites like Google, Yahoo, Yelp, Trip Advisor and Angie's List into one dashboard where businesses can respond to all customer feedback in one central place. Customer concerns can quickly be addressed before they escalate and suggestions can be turned into product and service improvements. Businesses also have the ability to manage their online reviews and reputation by contesting reviews that are fake, false, or slander directly from the dashboard and hold back contested reviews from appearing on their websites.
To generate additional reviews, businesses can send review requests to customers immediately after services are rendered or use a mobile app to collect customer feedback before they even leave the store. Customers can choose to share their review on Facebook, where their friends and family will see it. This instant feedback quickly spreads reviews through online word-of-mouth and also allows businesses to address issues immediately.
Positive reviews can automatically be showcased as testimonials on a business website, Facebook and Twitter. These reviews are indexed by search engines like Google, Bing and Yahoo, which helps increase search engine rankings and visibility for the business.
Luxury Bath started using the Bazaarify Business Reputation Management solution in December of 2013. They now showcase 174 reviews and counting on their website, personal review site, Facebook and Twitter. "Ninety percent of consumers read online reviews before making a purchase. Bazaarify lets us aggregate all our reviews across multiple sites and display them all on one personalized website. This allows potential and current customers to see our reviews from all sites in one place, and provides a platform to easily leave more reviews," said Luxury Bath Owner, Michelle Wray.
If you are interested in learning more about Business Reputation Management services, visit http://whiteboard-mktg.com.
About Whiteboard Marketing
Whiteboard Marketing LLC is a certified reseller of Bazaarify and full-service marketing and consulting firm that provides a strategic partnership with each client. Our services include strategic marketing planning and research, paid advertising, search engine optimization, social media marketing, e-mail marketing, media buying and placement, video production and website management. At Whiteboard Marketing, we utilize a calculated integration of marketing initiatives to drive sales, increase brand awareness and achieve ROI for our clients. To see a full list of our services, please visit our website.
About Bazaarify
Bazaarify is an emerging leader in Business Reputation Management (BRM). Bazaarify's innovative platform allows businesses to amplify their reputation to get more word-of-mouth referrals, leads and repeat clients. Businesses can monitor reviews from all major sites, gain new reviews, manage customer feedback and automatically promote their good reputation across the web, social media networks and search engines. The company is based out of Sunnyvale, CA, and led by entrepreneurs with diverse backgrounds in Internet and social media from Silicon Valley companies such as Yahoo, Google, Amazon, and Cisco.