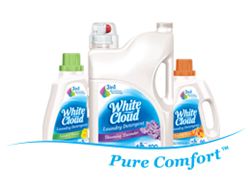 Bentonville, ARK (PRWEB) May 22, 2014
White Cloud® Laundry Detergent removes stains better than leading national value brand detergents. White Cloud's 3-in-1 micro-clean technology combines pre-treater, stain remover and color booster into its detergent to powerfully lift out even the worst grass stains, while being gentle on clothes and saving consumers money.
Consumers can now save even more money when they try new White Cloud Laundry Detergent by printing a coupon for $2 off the product after liking White Cloud on Facebook.
"We know it's difficult for families to determine which laundry detergent is best for their needs," said Michael Lyons, Senior Brand Manager. "That's why we're making it easy for consumers to compare their current brand to White Cloud. We think that once shoppers 'Dare to Compare,' they'll find that White Cloud provides a superior quality and value for a more affordable price."
White Cloud Laundry Detergent retails for $4.88 for a 100-ounce bottle ($2.88 with coupon), $6.68 for 150 ounces ($4.68 with coupon) and $11.47 for the 156-ounce box of powder ($9.47 with coupon).
About White Cloud
White Cloud gives families everyday comfort with products made with quality and value. White Cloud Laundry Care, Bath Tissue, Facial Tissue, Paper Towels and GreenEarth™ products are available at Walmart. For more information on White Cloud, visit MyWhiteCloud.com and follow White Cloud on Facebook, Twitter and Pinterest.